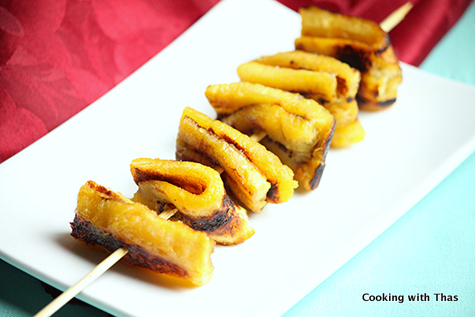 Ripe plantains roasted in ghee, mesmerizing aroma and delicious taste…
Among all the plantain snacks, this is my most favorite. Growing up in Kerala, where plantains are abundantly available, many kinds of snacks are made with it and devoured. One of the easiest plantain snacks you can make is this ghee roasted plantain. You have to make sure that the plantain is really ripe, tastes delicious. Whenever I make this, I will be seen enjoying the mesmerizing aroma of plantains roasting in ghee…
For Other delicious recipes using plantain, click here: Plantain recipes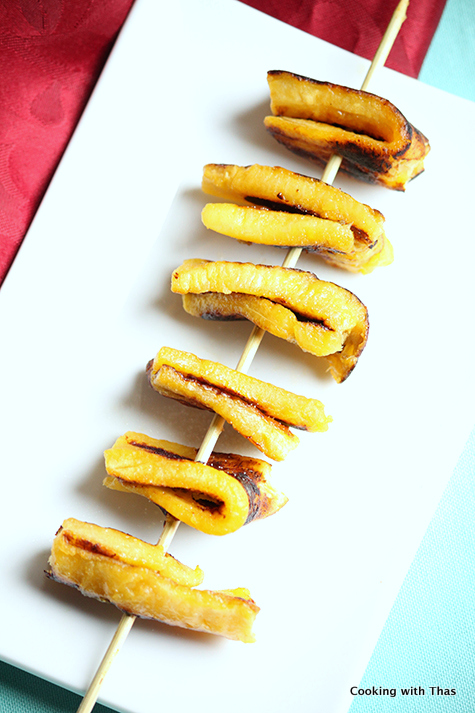 Ghee Roasted Plantain Cooking Video
Ghee Roasted Plantain
Ingredients
Ripe Plantains- 2 or more
Ghee- 2 to 3 tbsp/plantain
Sugar- 1 tbsp/plantain
Cashew nuts- 2 tbsp (optional)
Instructions
Heat a non-stick frying pan over medium heat.
Use very ripe plantain for making this.
Peel off the skin and cut the plantain horizontally into 2 halves.
Now, cut each horizontal half vertically into thin long slices.
Add ghee to the frying pan and let the ghee melt.
Place the plantain slices without crowding.
Shallow fry till both the sides turn golden brown.
Sprinkle sugar over the shallow fried plantains and fry for another minute.
You could even add cashew nuts and roast along with the plantains.
Remove the plantains from the pan, let cool down and enjoy.