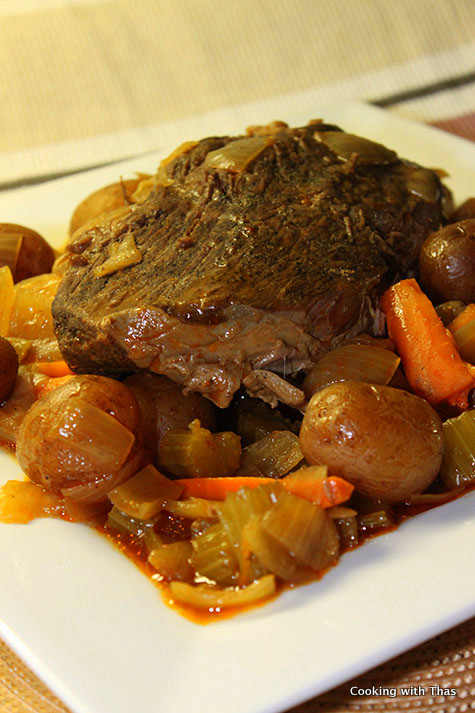 Beef pot roast is a classic American favorite, made by slow cooking beef in a crock pot…Let the crock pot do all the work!
I'd bought a crock pot a couple of years ago, yes with the sole intention of making pot roast and other slow cooked dishes. My man, being a pot roast lover felt excited seeing the crock pot in my shopping cart. He must have hoped that I would make the pot roast soon. Couple of times, I'd made Mexican chili in that, other than that I haven't bothered the crock pot much. It sat abandoned in the laundry room cabinet.
Last weekend, while cleaning the laundry room, I took the crock pot out of the cabinet and placed it on my kitchen countertop. Finally, that poor thing got to breathe some fresh air. I dusted and gave it a good wash. I felt really terrible for abandoning it for so long and made up my mind to put that into use. I couldn't think of anything but pot roast.
Pot roast is a classic American dish, and is made at most houses at least once a month. Everyone's favorite part about making pot roast is that we just have to throw all the ingredients into the crock pot, turn the heat to low and just walk away. Absolutely not an attention seeker hence should be left alone, let the crock pot do the magic. For that reason, this has become one of the favorite dishes of busy working people.
In the morning, before you go to work put everything in the crock pot, turn the heat to low and by the time you are home the pot roast will be perfectly cooked. If the heat is kept low, it has to be cooked for 8 hours and at high heat 6 hours is good enough.
I cooked at high heat so it was slow cooked for 6 hours, after 6 hours the meat was extremely tender and it was falling apart. My man couldn't be any happier and enjoyed the pot roast with so much enthusiasm.
Preparation Pictures
Layering the veggies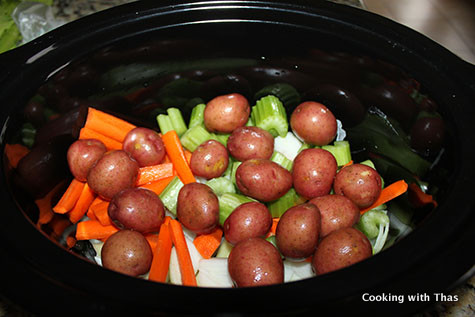 Place the seasoned beef on the veggies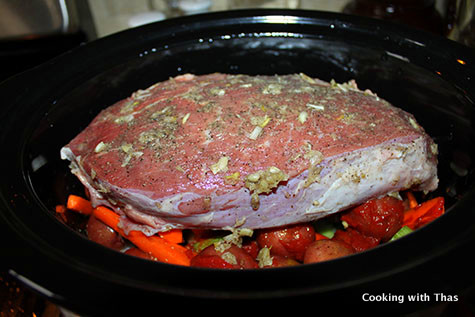 After 6 hours of slow cooking at low heat, pot roast is ready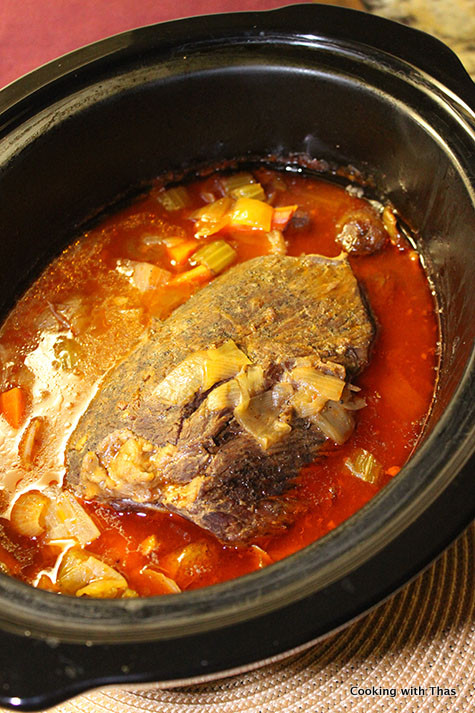 Easy Pot Roast Recipe- Beef Pot Roast
Ingredients
Beef, chuck roast or sirloin tip roast- 2 lbs or 1 Kg
Garlic paste- 1 tbsp
Ground pepper
Salt
Corn starch- 1 tbsp combined in 1 tbsp chicken stock
Carrots, cut into thick wedges- 2
Onion, cut into chunks- 2
Celery, diced- 2 stalk
Small potatoes- 15 (no need to cut them)
Tomato paste- 3 tbsp
Worcestershire sauce- 2 tbsp (optional)
Chicken stock or beef stock- ¾ cup
Thyme or Rosemary- 2 sprigs
Instructions
You could either use chuck roast or sirloin tip roast for making pot roast. I used sirloin tip roast.
Spread the garlic paste all over the beef.
Generously season the beef with ground pepper and salt.
Spread all the cut vegetables as the bottom layer in the pot.
Combine corn starch with 1 tbsp chicken stock, pour over the veggies.
Add tomato paste and worcestershire sauce over the veggies and give it a mix.
Pour chicken stock or beef roast over the veggies.
Add thyme or rosemary.
On top of the veggies, place the seasoned beef.
Cover the pot with its lid and cook for 6 hours at high heat or 8 hours at low heat.
After 6 or 8 hours of cooking, open the lid and remove the pot from the cooker.
The beef will be very tender, serve along with the cooked veggies, you could even serve mashed potatoes or pasta or pita bread with it.
Notes
You could add any kind of seasonings or spices you want.

If using large potatoes, cut them into halves.