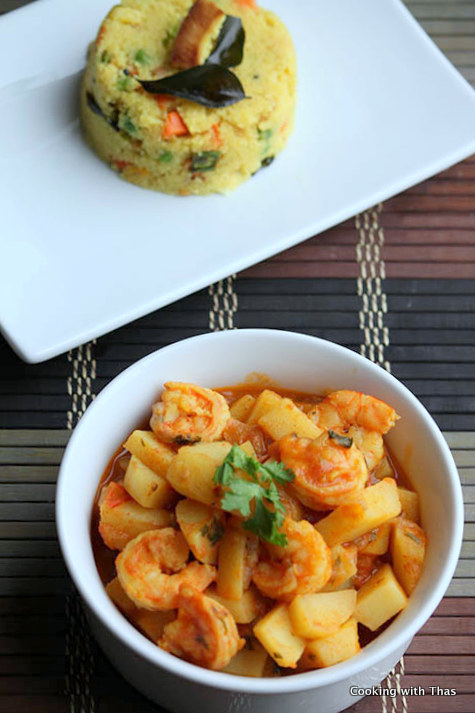 Shrimp and potato cooked together along with aromatic spices and made into a delicious curry…
I hope you guys must have noticed the new theme, did you like it??? I had some issues with my old theme and my Man tried everything to fix it. But in vain. I got so used to that theme and it was quite dear to me. Saying goodbye to that one was not that easy. Couldn't stand seeing my website being broken, so right away got a new theme. My man and I have been working on customizing everything since yesterday. Finally, everything is working and looks good. I am happy, excited and this is going to my first post on this new theme.
Yet another thing to be happy is that finally Spring is here. All the snow that has piled up like a huge hill has melted and we are getting to see the ground and the green grass. It's sunny and warm yet there is a chill in the air. Birds have started chirping and everything is coming back to LIFE. It's the time to feel fresh and rejuvenated. I'm in love with the kind of weather we are having now.
Coming back to this recipe. I love shrimp cooked in any way, I just love 'em. The other day, I made a curry with shrimp and potato. Even with just shrimp, this curry tastes good. However, potato gave a much nicer texture to this curry. This curry can be served with chapati, rotis, poori or even with steamed rice. I served with Vegetable Upma, here is the recipe.
Shrimp and Potato Curry
Ingredients
Oil- 1 tbsp
Whole cardamom- 2
Whole cloves- 2
Bay leaf-1
Onion, chopped-1
Tomatoes, chopped- 2
Potatoes, diced- 3
Shrimp, shelled and deveined- 15
Chili powder- 1 tsp (add more if you want this curry to be spicy)
Coriander powder- 1 tsp
Ground Cumin - ½ tsp
Turmeric powder- ⅛ tsp
Ground pepper- ¼ tsp
Water- 1 cup (or use ½ cup coconut milk + ½ cup water)
Cilantro, chopped- 2 handfuls
Salt- to taste
Instructions
Place a saucepan over medium heat, add oil. Let the oil turn hot.
Add whole cardamoms, cloves and bay leaf, saute for a few seconds till aromatic.
Add onion, season with salt and saute till light golden in color.
Add tomatoes and cook till slightly mashed up.
Add diced potatoes along with ¼ cup water and cook covered till the potatoes just turn tender.
Do not over cook the potatoes.
Add chili powder, turmeric powder, coriander power, ground cumin, ground pepper and salt to taste. Combine well and cook for a minute.
Add shrimp and combine well with the spices.
Add 1 cup water and cook covered till the shrimp has cooked well.
If you want you could add ½ cup water and ½ cup coconut milk instead of 1 cup water.
Open the lid, cook till the gravy thickens.
Add cilantro, get everything a mix and cook for a minute.
Remove the saucepan from the heat, keep covered for a few minutes.
Serve this curry with chapati, roti, naan, poori, pathiri, rice etc.