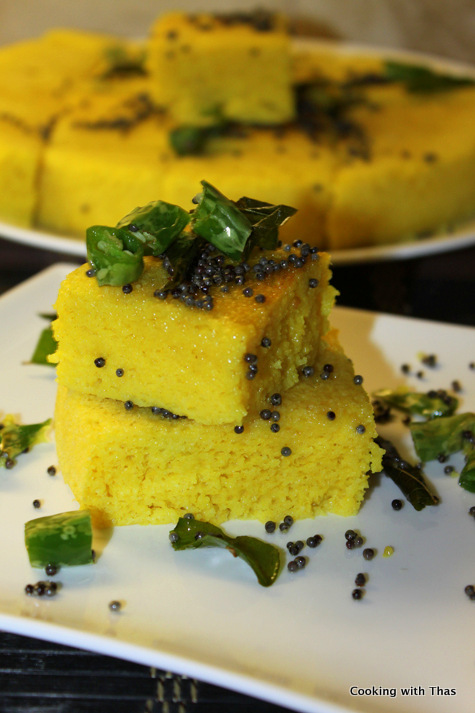 A savory cake: it's spongy, it's extremely soft and it's delicious; a popular Gujarati snack…
How did the thought of making dhokla hit me??? Last weekend, I'd watched Hum dil de chuke sanam hindi movie, one of the sensational movies of Aishwarya Rai and Salman Khan. That movie was released in 1999, it was a blockbuster hit and I watched it right away. After almost 14 years, I watched it again. I do love watching some of my favorite movies that I'd seen when I was a kid/teenager, brings back a lot of warm memories. In this movie, Salman khan eat a lot of dhokla, in fact he was forcibly fed by Aishwarya's family. That's when I made up my mind to try dhokla.
Dhokla is a popular Gujarati snack, it's basically steamed savory gram flour/semolina cake. I have never tried dhokla nor have I made it before. I haven't seen this snack at any Indian restaurants here, so the only way I had to taste this snack is by making it in my kitchen all by myself. Well, literally anything can be made in our kitchen, so it's much easier to make it rather than wait for it.
There are a few versions of dhokla, the batter can be made with just besan/gram flour or a combination of besan and semolina can be added. Yogurt is added to make the batter and is allowed to ferment for a few hours. It's made savory by adding green chilies, ginger and other spices. The batter is poured into a cake pan and steam cooked till it's cooked well. One main and final step is to make a tempering using mustard seeds, curry leaves and green chilies, pour the tempering over the cooked dhokla. The dhokla is then cut into squares and served along with mint chutney or cilantro chutney.
I used the green chilies plucked from my garden, could it get any better???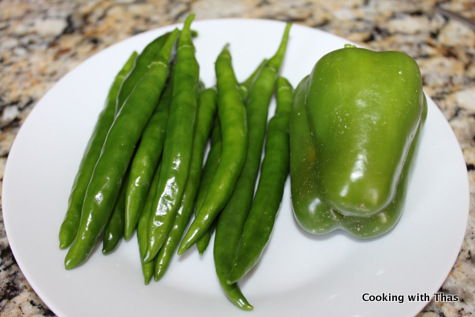 I would relate this to Idli, a famous South Indian breakfast dish. Both are made out of fermented batter and have a spongy soft texture. I really loved the spongy texture of dhokla. The batter should have the right constituency, not too thick nor too flowing, I would say this is the key for making soft dhoklas.
Dhokla Cooking video
Look at the spongy soft texture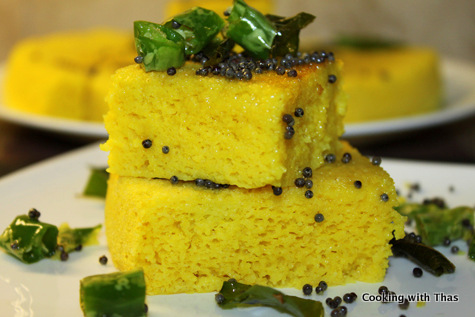 Preparation Pictures
Dhokla batter before fermentation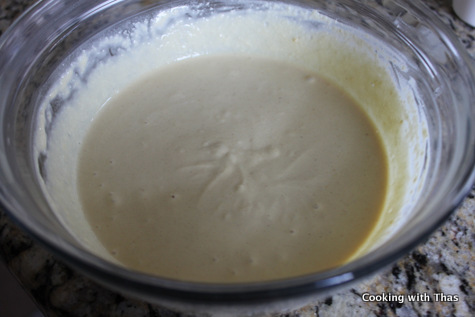 Fermented batter poured into a cake pan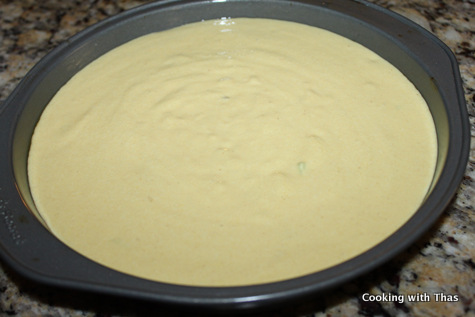 Steam cooking dhokla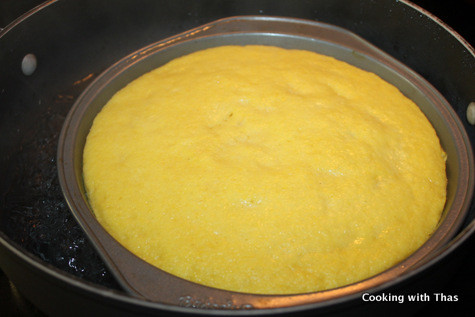 Perfectly cooked dhokla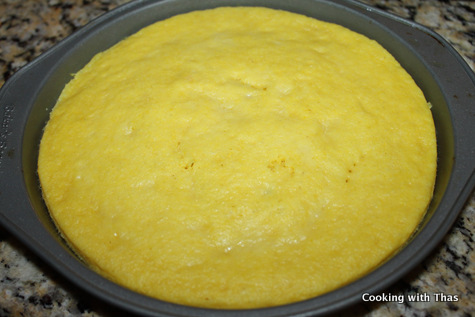 Making tempering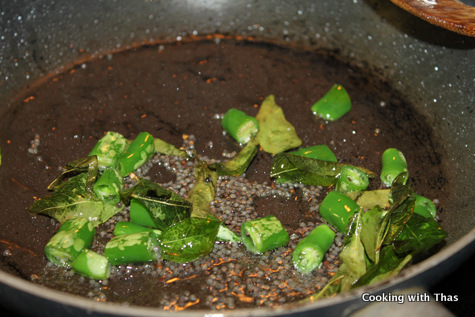 Dhokla with the tempering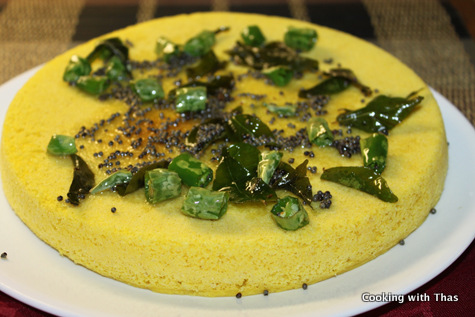 Dhokla - Gujarati Snack - Steamed Savory Gram flour/Semolina Cake
Ingredients
Gram flour/besan or Chick peas flour- 1 cup
Semolina or sooji/rava- ½ cup
Yogurt, thick- 1½ cups
Water- ½ cup
Salt- to taste
Green chili- 1
Ginger, chopped- 1 inch slice
Turmeric powder- ¼ tsp
Lemon juice- ½ tbsp
Baking soda- ½ tsp
For making tempering
Oil- 2 tbsp
Mustard seeds- ½ tbsp
Curry leaves- 2 sprigs
Green chilies, chopped- 3
Instructions
In a large bowl, combine gram flour, semolina, yogurt, water and salt using a whisk to a smooth and slightly flowing batter.
I used thick yogurt so had to use ½ cup water to make the right constituency batter.
The batter should not be too thick nor too watery.
Let the batter ferment for 2 to 3 hours.
Grind the green chili and ginger together to a smooth paste.
After 3 hours, add turmeric powder, lemon juice and green chili/ginger paste to the fermented batter, combine well.
Add the baking soda, combine well. After adding baking soda cook it immediately.
Grease a 8 inch cake pan with non-stick cooking spray, pour the batter into the pan.
Add some water into a large cooking pan, place the pan over medium heat and let the water come to a slight boil.
Place the cake pan over the boiling water, cover the cooking pan with its lid and cook for 15 minutes or until a fork inserted into the center comes out clean.
Make sure when the cake pan is placed into the water, the water doesn't get into the pan, so don't add too much water.
After the dhokla has cooked, gently remove the pan from the water and allow it to cool down.
After it has cooled down, cover the cake pan with a large plate and flip it over, dhokla would fall onto the plate.
Place a frying pan over medium heat, add oil let the oil turn hot.
Add mustard seeds, let it splutter.
Add curry leaves and green chilies, saute for a couple of minutes.
Remove the pan from the heat and pour the tempering over the dhokla, spread it evenly.
Using a sharp knife, cut the dhokla into square or desired shapes.
Serve along with mint chutney or cilantro chutney.