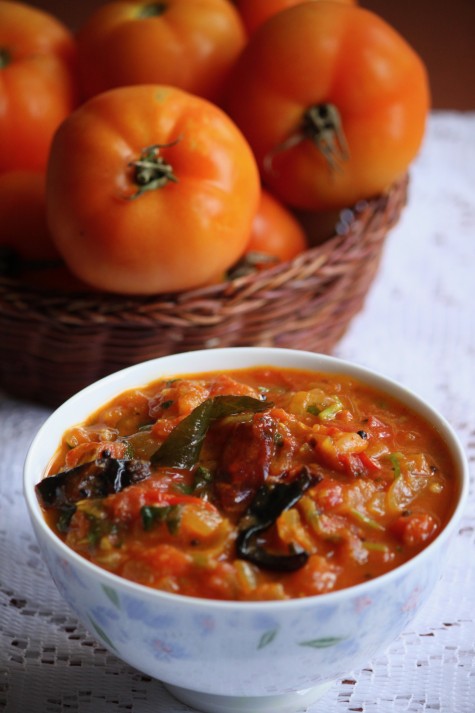 Tomatoes freshly picked from my garden and turned into a delicious curry…
This summer, I had the joy of picking so many tomatoes from my veggie garden and almost all of 'em turned out plum and great. My veggie garden is 100% organic and I was awed by the natural shine the tomatoes had. After the summer is over, it's gonna get super hard for me to buy store bought tomatoes. I wish summer lasted for long.
Here is the picture of the tomatoes that I'd harvested: I had the joy of harvesting and the joy of cooking with them.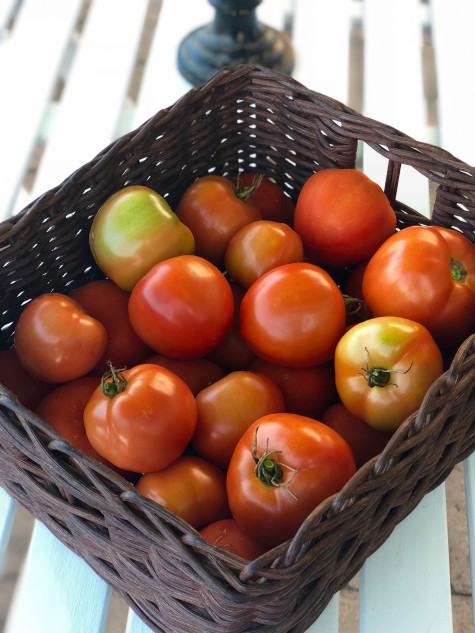 I use onions and tomatoes in most of my cooking so I used up most of the tomatoes and some are still in my refrigerator ready to be transformed into something delicious.
I made this easy tomato curry with the freshly picked tomatoes, the taste of this curry was incredible as freshly picked tomatoes were used. It's an easy to make curry and I only added asafoetida, turmeric powder and chili powder for seasoning. I wanted to bring out the taste of tomatoes by using less spices. This curry turned out delicious and goes well with rice, chapati, appam etc.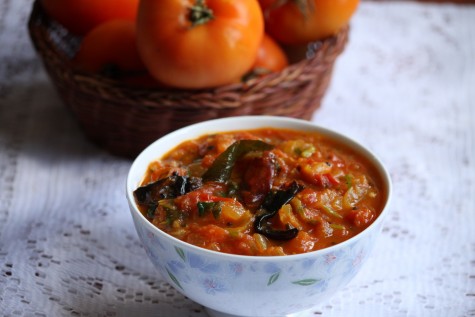 Cooking Video
Easy Tomato Curry- Kerala Tomato Curry
Ingredients
Coconut oil or vegetable oil- 3 tbsp
Mustard seeds- 1 tsp
Dried red chilies- 2, halved
Curry leaves- 1 sprig
Onion, chopped- 1
Salt- 1 tsp
Ginger- Garlic paste- 1tbsp
Asafoetida- ⅛ tsp (optional)
Turmeric powder- ¼ tsp
Tomatoes, chopped- 3
Chili powder- 1½ tsp (as per your spice level)
Cilantro, chopped- 2 handfuls
Instructions
Place a pan over medium heat, add coconut oil.
Let oil turn hot, add mustard seeds, let splutter.
Add dried red chilies and curry leaves, saute for a few seconds.
Add onion, season with ½ tsp salt. Saute for a minute.
Add ginger-garlic paste, saute for few minutes.
Add turmeric powder, combine well.
Add asafoetida, combine and cook for 2 minutes. Adding asafoetida is optional.
Add tomatoes, cook till tomatoes are mashed.
Add salt and chili powder, combine well and cook for a few minutes.
Add chili powder according to your spice level.
Add cilantro, combine well and cook for a minute.
Serve along with rice, chapati, appam etc.