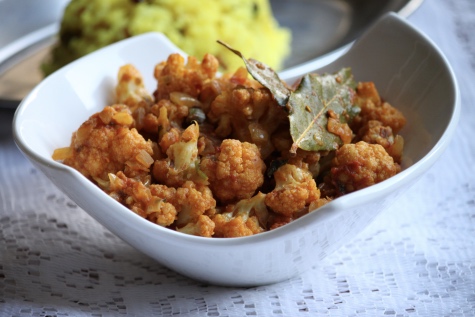 Cauliflower stir fried in onion-tomato masala, delicious vegetarian dish…
Cauliflower is such a versatile vegetable, it can be turned into several delicious dishes. It can be baked, fried, stir fried, steamed or just enjoy as it is and I love it made literally anyway. Many Indo-Chinese dishes can be made with cauliflower.
This is any easy to make stir fry; cauliflower florets stir fried with onion and tomato seasoned with Indian spices. Can be served with rice, chapati, roti etc.
Other yummy cauliflower recipes, click here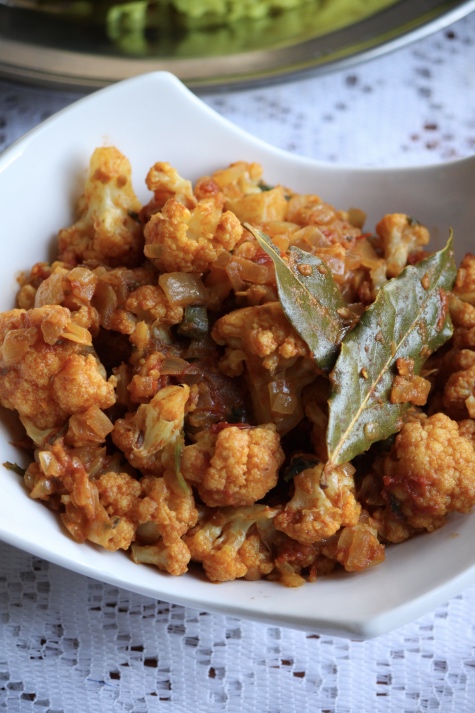 Cooking Video
Cauliflower Masala Stir Fry- Easy Cauliflower Recipe
Ingredients
Oil- 1½ tbsp
Bay leaves- 2
Garlic, grated- 2 cloves
Ginger, grated- 1 inch slice
Green chili, chopped- 1
Cumin seeds- ½ tsp
Onion, chopped- 1
Salt- ½ tsp
Tomatoes, chopped- 2
Chili powder- 1 tsp
Turmeric powder- ⅛ tsp
Coriander powder- 1 tsp
Fennel powder- 1 tsp
Salt- ½ tsp
Cauliflower, florets- from 1 medium cauliflower
Water- ½ cup
Garam Masala- ¾ tsp
Cilantro, chopped- 2 handfuls
Instructions
Soak the cauliflower florets in warm water for 10 minutes, rinse and drain water.
Place a non-stick pan over medium heat, add oil- let oil turn hot.
Add bay leaves, garlic, ginger and green chili, saute till golden.
Add cumin seeds, saute for a few seconds till aromatic.
Add onion, season with salt, saute till light golden.
Add tomatoes, cook till slightly mashed.
Add chili powder, turmeric powder, coriander powder, fennel powder and salt. Combine well and cook for a minute.
Add cauliflower florets, combine well.
Add water and cook covered for 15 minutes, do not over cook the cauliflower.
Stir fry till water has dried off.
Add garam masala, stir fry for a minute.
Add cilantro, stir fry for 2 minutes.
Serve along with rice, chapati, roti etc.