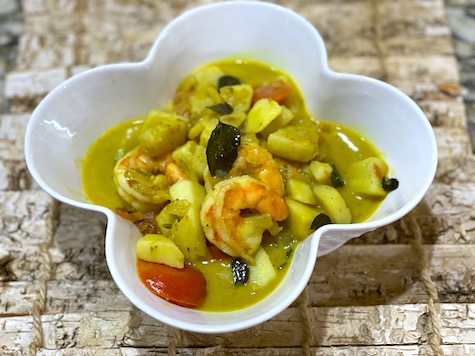 Aromatic & delicious shrimp potato stew, Kerala style…
One of the curry-based dishes that I enjoy the most is this stew, a popular dish in Kerala usually made with potatoes. I've also added shrimp along with potatoes, which turned out fabulous. I crushed the ginger-garlic-cardamom-green chilies using a mortar & pestle and sauteed them in coconut oil, this will impart a mesmerizing aroma & flavor to this stew.
Added simple & aromatic spices to the cooked potato & shrimp and towards the end added coconut milk.
This is an absolutely delicious & finger licking delicious stew, that can be enjoyed with chapati or appam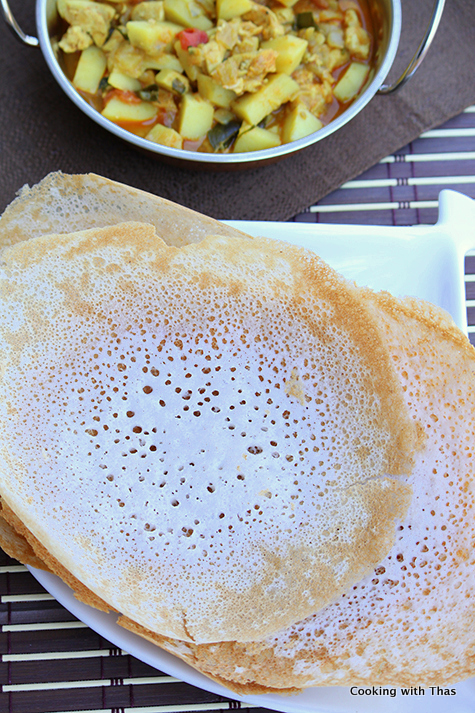 Shrimp & Potato Stew Cooked In Coconut Milk - Kerala Curry Recipe
Ingredients
To crush
Garlic- 2 cloves
Ginger- 2-inch slice
Whole cardamoms- 2
Green chili, halved- 2
For Cooking
Coconut oil- 1 tbsp
Crushed ingredients
Curry leaves- 1 sprig
Onion, chopped- 1
Potato, diced- 1, large
Warm water- ½ cup
Shrimp, deveined & shelled- 10 large or 20 prawns
Turmeric powder- ¼ tsp
Fennel powder- 1½ tsp
Garam masala- ½ tsp
Ground black pepper- ½ tsp
Salt- 1½ tsp
Tomato, sliced- 1 (optional)
Coconut milk- 1 cup
Instructions
Using a mortar & pestle, crush the above-mentioned ingredients.
Place a large saucepan over medium heat, add coconut oil.
Add the crushed ingredients & curry leaves, saute for 2 minutes.
The aroma that'll be released while sautéing is just amazing.
Add onion chopped, season with 1 tsp salt, saute for 2 minutes.
Add potato diced, I've added 1 large potato.
Add ½ cup warm water, combine well & cook covered till potatoes have turned soft.
Don't overcook the potatoes.
Add shrimp or prawns, combine well & cook for a few minutes.
Add turmeric powder, fennel powder, garam masala, ground black pepper & ½ tsp salt. Combine well.
Cook for a few minutes.
Add sliced tomato, adding tomato is optional if you don't want tomato you can skip it.
Cook covered for 2 minutes.
Finally, add coconut milk; gently combine well & cook for 2 minutes.
Take the pan off the heat & keep it covered for a few minutes.
This stew tastes delicious when enjoyed with appam or chapati. Enjoy.