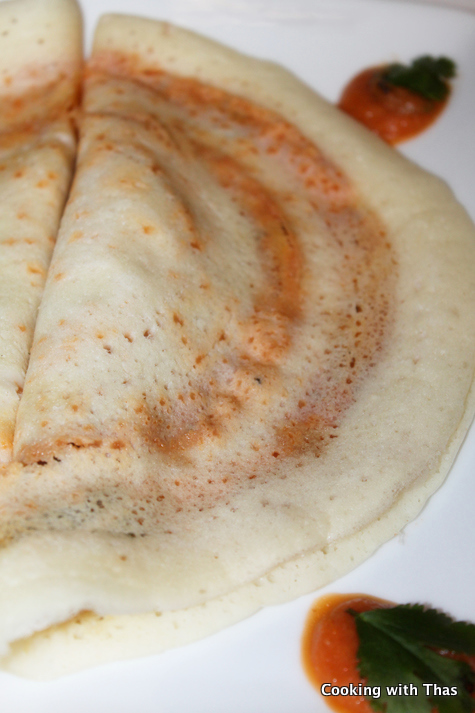 Even the hard core non-veggie falls for this veggie delicacy of south India…
If you are in south India and if you haven't tried Dosa, you sure is missing the most popular veggie delight. I don't think anyone can ever miss this as this is seen on the menu of almost all South Indian restaurants. They even have a separate menu for dosas and when you go through it, you would get pretty confused on which one to pick. Some of the common varieties are Plain dosa, Rocket dosa, Masala dosa, Butter dosa, Paper dosa, Onion dosa, Open dosa, Mysore masala dosa etc. I could go on and on…
I still remember the first time I had Rocket dosa, when I was 8 years old at my favorite Arul Jyothi restaurant in Trivandrum, kerala. When the waiter heard my order, he actually stared at me for a while. I felt quite weird about his staring. But, when the rocket dosa was placed in front of me, first thing that came out of my mouth was: Oh My God! I literally looked around embarrassed and almost everyone in that restaurant stared at me astonishingly. Just as the name rocket, that dosa was around 5 feet long, not to forget this was ordered by an 8 year old. While ordering it, I had no idea how it would look and never thought it would be this huge. My parents started to laugh seeing my embarrassed expression on my face. Soon I overcame my embarrassment and started to dig in. I couldn't even eat half of that dosa, let alone finishing it. It's been several years yet the taste of that dosa still lingers in my mouth, it was crispy, thin like a paper, crunchy and absolutely delicious.
What is Dosa?
Dosa is a crepe made from rice and black lentils. This is the popular breakfast served in most of the houses in south India.
Dosa is made rather small in houses. But in restaurants they make it huge and paper thin with different stuffings inside it. I am still unsure about how they make super crispy and super thin in restaurants. It seems it's a secret known just to them. I need to bribe a South Indian chef to reveal this secret of making crispy dosas 😛
Hot dosas with chutney or sambar along with filtered coffee, Gosh! even the mere thought of it makes my mouth flood like crazy.
I don't make this quite often, hence on the days I make dosa, I devour it until my stomach can hold any further. My favorite way of having dosa is with Tomato chutney, which my aunt used to make often.
Dosa
 Preparation Pictures
Soaked rice and lentils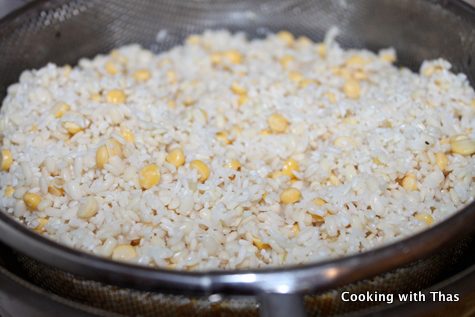 Dosa batter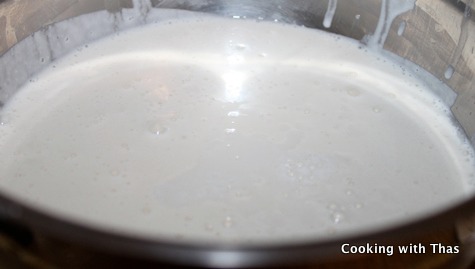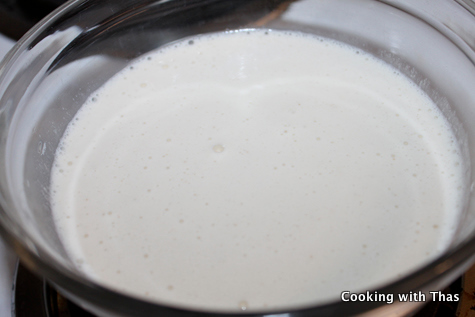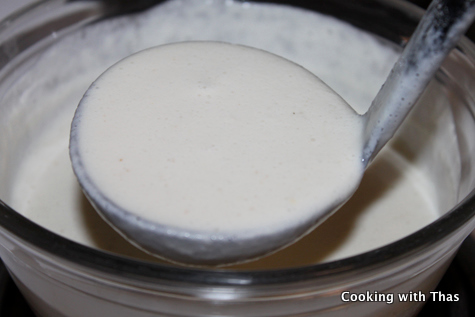 Making dosa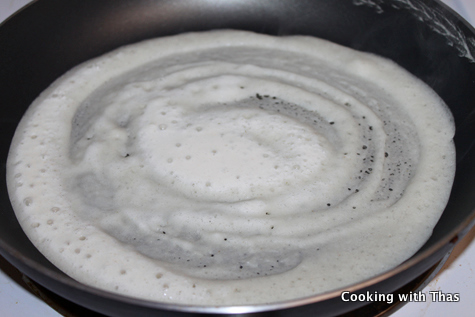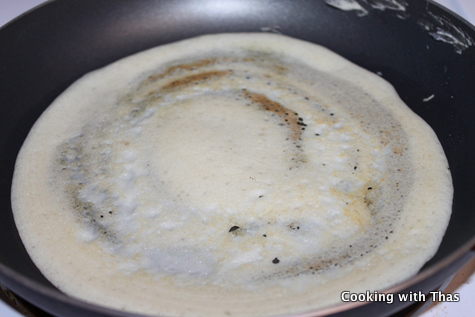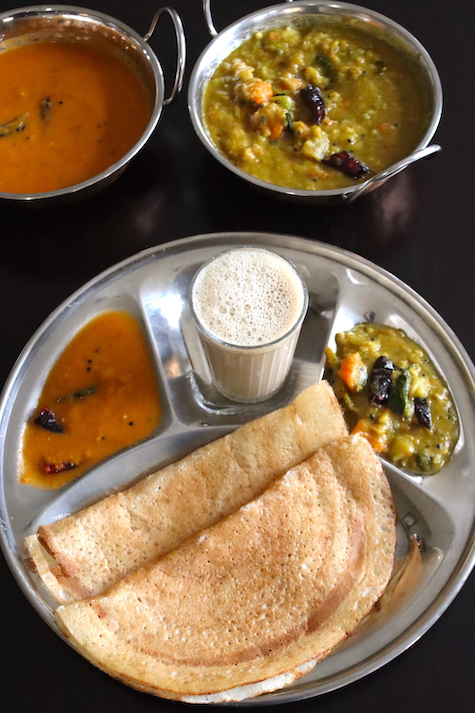 For making Tomato Dosa: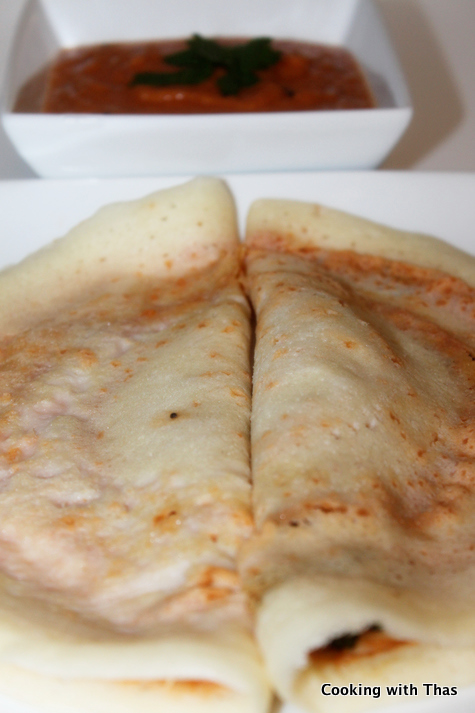 Dosa - Popular South Indian Breakfast
Ingredients
Raw white Rice, ponni rice or sona massori rice- 2 cups
Black lentil or Urad dal- 1 cup
Chana dal- ¼ cup
Fenugreek seeds- 2 tsp
Water- enough to make the batter
Salt- to taste
Ghee- enough to drizzle while making dosa
Instructions
Making the Dosa batter
Rinse the rice, lentil and chana dal under running water.
In a large bowl: add rice, urad dal, chana dal and fenugreek seeds, soak in water for about 8 hours or overnight.
Drain all the water from the rice and lentils; grind to a smooth batter by adding just enough water.
Pour the thick batter into a large bowl.
Keep the batter aside in a warm place and allow it to ferment, which will take 8 hours or keep it overnight.
During summer the batter will ferment faster, so you could keep it on the kitchen counter top.
During winter it takes a long time, so keep the bowl with the batter inside the oven (turn on the oven to the lowest temperature, after 5 minutes turn off the oven and keep the batter inside the oven) this will speed up the fermentation.
Making Dosa
After the batter has fermented, take as much as batter as you want in a separate bowl and refrigerate the remaining batter.
Add water to thin down the batter.
Add a few pinches of salt to the batter and combine well.
Heat a cast iron skillet over medium high heat. The pan has to be hot.
Spread 1 tsp ghee on the pan.
Fill the ladle with dosa batter and gently pour the batter onto the center of the pan.
Now begin to spread the batter in circular motion to a thin round shape.
The dosa will start to develop tiny holes at this time.
Drizzle little ghee over the dosa and lift the pan and swirl so that the ghee will spread all over the dosa.
When the top of the dosa has cooked, flip it to the other side.
The bottom side will have a golden color and cook the other side as well.
Remove from the pan and keep aside.
For making Tomato Dosa
Spread the prepared tomato chutney over each dosa and fold it.
Serve this with tomato chutney on the side.
Notes
Make dosa on a cast iron skillet- this will ensure nice golden color and better taste.
For making small dosa
After pouring the batter on the pan, don't spread the batter, instead cook as it is and you will have small dosa resembling pancakes.