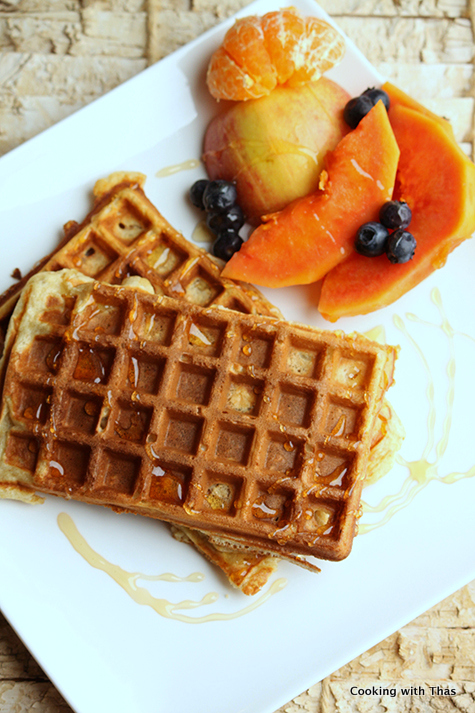 Delicious waffles made with ground oats and all purpose flour…
My man loves to have a heavy and delicious brunch on Saturdays and I try my best to make that happen. We both love waffles, who doesn't??? This time, I added ground oats along with all purpose flour. Turned out great, served along with fresh fruits drizzled with honey.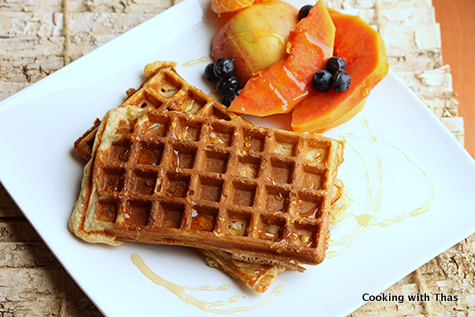 Oats Waffle- Easy Waffle Recipe
Ingredients
All purpose flour- ¾ cup
Ground Oats- ½ cup (I used Instant oats)
Sugar- 2 tbsp
Baking powder- 1 tsp
Baking Soda- ¼ tsp
Salt- ¼ tsp
Egg- 1
Vanilla extract- 1 tsp
Butter, melted- ¼ cup
Milk- 1 cup
Instructions
In a food processor or blender, grind ½ cup instant oats.
In a large bowl, combine ground oats, flour, baking powder, baking soda and salt.
Add egg, combine well using a whisk.
Add vanilla extract, butter and milk. Combine well using a whisk.
Make a smooth batter.
Heat a waffle maker, grease with non-stick cooking spray.
Add 2 spoonful of batter. Cook till waffles turn golden and crispy.
While serving, pour honey or pancake syrup over the waffles.
Enjoy along with fresh fruits and coffee.