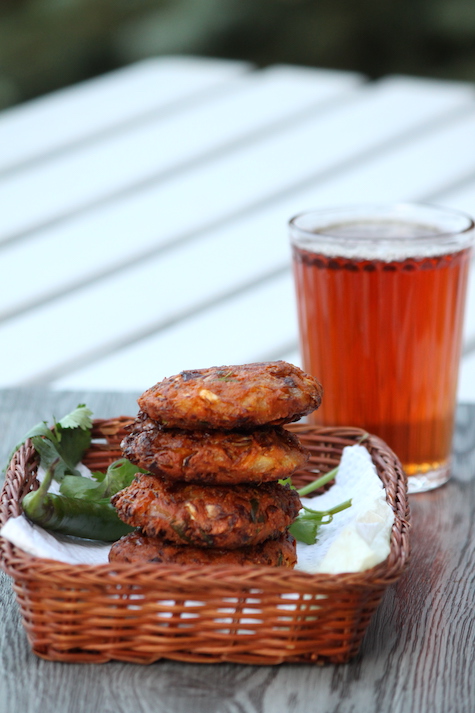 A crispy snack with cabbage and it's gluten-free…
Food has always been a way for me to connect with my roots, memories, and family. Many a time, nostalgia is a key ingredient for me while cooking. This cabbage pakoda and sulaimani took me down memory lane.
On a rainy day, I crave crispy fried snacks and I'll be seen enjoying along with my favorite cardamom chai. This recipe is quite similar to Onion fritters or Ullivada, a popular evening snack in Kerala. I've used gluten-free flour like gram flour & corn starch for binding the mixture. The addition of cornstarch will make these fritters crispy as well.
Enjoy with a cup of chai.
Cooking Video
Cabbage Pakoda- Crispy Cabbage Fritters- Gluten Free Snack
Ingredients
For making pakoda
Onion, chopped small- 1
Cabbage, grated or chopped small- 2 cups
Green chilies, chopped- 2
Ginger, grated- 1-inch slice
Curry leaves- 1 sprig
Chili powder- 1 tsp
Coriander powder- 1½ tsp
Turmeric powder- ¼ tsp
Ground cumin- ½ tsp
Salt- 1½ tsp
Gram Flour- ½ cup
Corn starch or Rice flour- ¼ cup
Water- 2 tbsp
For Frying
Instructions
In a bowl, combine all the above mentioned ingredients 'for making pakoda'.
If you don't have corn starch, you can add rice flour.
Combine the mixture well, add water little by little till you can make firm patties.
Make patties, flatten between the palm of your hands.
With this recipe, you will be able to make 7 patties.
Place a frying pan over medium heat, add oil for frying and let turn hot.
Place the patties without crowding.
Fry till both sides have turned golden brown.
Transfer to a plate lined with paper towel.
Enjoy while its warm along with Chai.
Enjoy these fritters along with chai