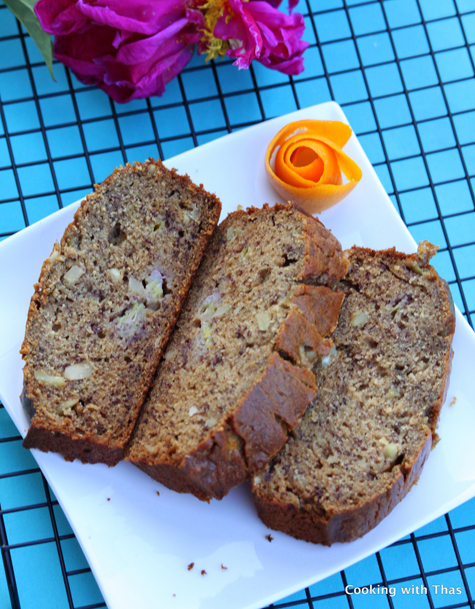 Turn the ripe bananas into banana bread, tastes delicious and can be served for breakfast or as an evening snack…
Aren't bananas the most consumed fruit??? They are instant energy boosters and have so many remarkable health benefits. I cannot think of a grocery shopping without buying bananas. At times, I buy a huge bunch and after a few days when the skin starts to turn black, I'll be tempted to make smoothies, milkshakes and so many dishes out of it.
One of my favorite ways of using up the ripe bananas is by turning them into delicious banana bread. Now, who can resist banana bread??? Have a couple of slices of banana bread in the morning and kick start your day energetically. I love this recipe as it's easy to make and it's milk free. The mashed up banana will make this bread moist and rich.
While baking, the whole house will be filled with the nice aroma of ripe bananas. Leftover bread can be refrigerated for a week and it tastes more delicious when chilled.
Yet another favorite of mine is Zucchini bread, here is the recipe- Zucchini bread
Here is the Video for making Banana Bread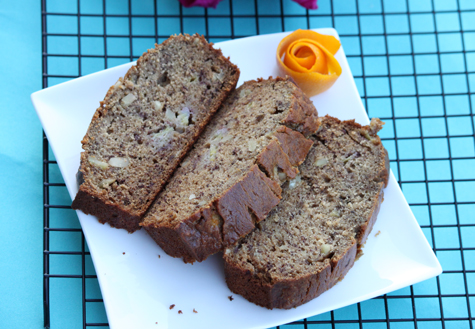 Easy Banana Bread Recipe - The best Recipe
Ingredients
All purpose flour- 1½ cups
Brown sugar or white sugar- ¾ cup
Baking soda- 1 tsp
Ground cinnamon - ½ tsp
Salt- ¼ tsp
Ripe bananas- 3
Melted butter, unsalted- ⅓ cup
Egg- 1
Vanilla extract- 1 tsp
Almonds or walnuts or pecans, chopped- ¼ cup
Instructions
Preheat oven to 350 F.
In a bowl: combine flour, sugar, baking soda, ground cinnamon and salt.
In an another bowl, mash the ripe bananas using a fork or potato masher until smooth and without any lumps.
Add the melted butter, egg and vanilla extract. Combine well using a whisk till smooth.
Slowly add the prepared dry ingredients or flour mix into the banana mixture, combine well using a whisk until the batter has a smooth constituency.
Add the chopped nuts of your choice, give it a good mix into the batter.
Grease a loaf pan with non-stick cooking spray or butter.
Pour the batter into the pan, even out the top.
Place in the preheated oven on the lower rack and bake for 55 minutes to 1 hour.
After 55 minutes, insert a fork into the center of the bread, if it comes out clean it has baked well. Else, bake for few more minutes.
Remove the pan from the oven, let cool down a bit and gently slide the bread onto a wire rack. Let cool down completely.
Slice using a sharp knife and serve with a cup of coffee.
Leftover bread can be refrigerated, the chilled banana bread tastes more delicious.
Notes
I added brown sugar and it imparted nice caramelized flavor to the bread.