Cantaloupe mango drink is a refreshing and flavorful summer beverage made from ripe cantaloupe and mango. It is a perfect drink to beat the heat and quench your thirst.
To make cantaloupe mango drink, you will need ripe cantaloupe & mango pulp. First, peel and chop the cantaloupe and mangoes into small pieces and puree them in a blender until smooth. Add the mango pulp & combine well.
Cantaloupe mango drink is a delicious and healthy drink that is packed with nutrients and antioxidants. Cantaloupes are rich in vitamins A and C, while mangoes are a good source of vitamin C and beta-carotene. This drink is also a great way to stay hydrated during hot summer days.
You can garnish the drink with pomegranate seeds & mint leaves or serve it over ice for a refreshing and satisfying summer beverage.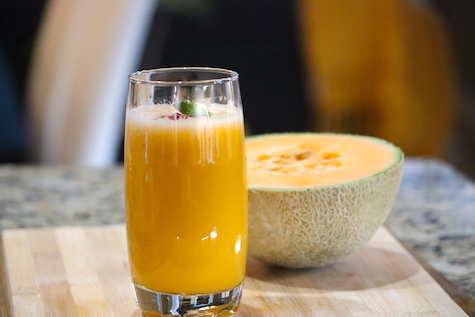 Cantaloupe Mango Drink
Ingredients
Cantaloupe, diced- ½ cantaloupe
Water- 1 cup (or coconut water)
Mango pulp- 4 tbsp/glass
Soaked basil seeds- 1 tbsp/glass
Pomegranate seeds, to garnish
Fresh mint leaves
Instructions
Use ripe cantaloupe, peel and chop half of the cantaloupe and puree them in a blender along with water until smooth. Instead of water, coconut water can be added.
Pour half of the cantaloupe puree to a glass.
Add 4 tbsp mango pulp & combine well.
Mango pulp & cantaloupe puree will be sweet so sugar is not required.
Add a few ice cubes.
If you want you can add soda or Sprite/ginger ale as well.
Add soaked basil or sabja seeds, combine well.
Top with a teaspoon of pomegranate seeds & garnish with mint leaves.
Enjoy this delicious & refreshing drink, perfect for Summer.