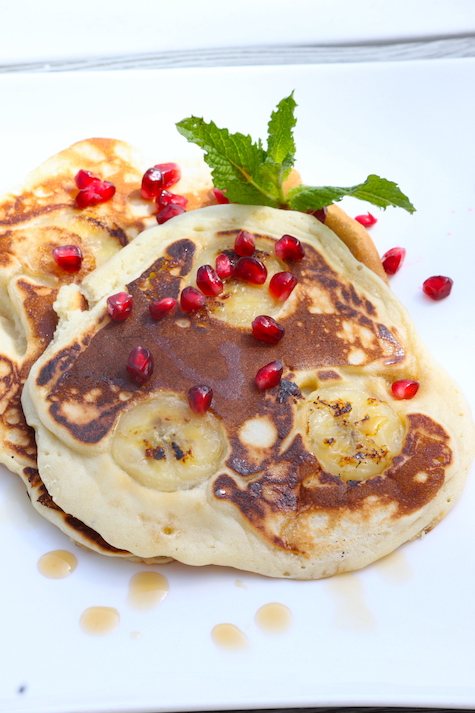 Pancakes made with coconut batter & topped with bananas. Easy to make, soft & fluffy pancakes for breakfast or brunch.
Cooking Video
Coconut Pancakes- Banana Pancakes with Coconut Milk- Easy & Tasty
Ingredients
Making pancake batter
All purpose flour- 1 cup
Sugar- 2 tbsp
Baking powder- 1½ tsp
Salt- ¼ tsp
Egg- 1
Coconut Milk- 1¼ cups
Vanilla extract- 1 tsp
Butter, melted- 2 tbsp
Other ingredients
Butter- to cook pancakes
Ripe Bananas, cut into rounds- 3/pancake
Maple syrup or pancake syrup- while serving
Instructions
In a bowl, combine all the ingredients for making the pancake batter.
Using a fork combine well without any lumps, make into a smooth batter.
Place a pan over medium heat. Add 1 tsp butter.
Pour 1 large spoonful of batter.
Top the batter with 3 bananas cut into round shapes.
Let bottom side cook well.
Flip it over, let the other side cook well.
Transfer to a plate.
Drizzle maple syrup or pancake syrup or honey.
Enjoy with a cup of coffee or tea. YUM!