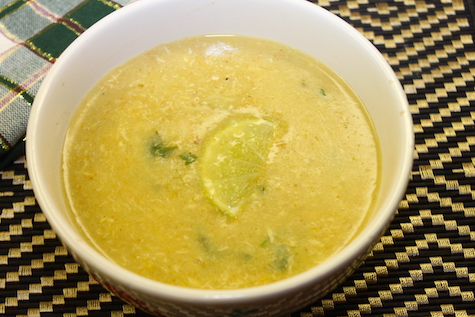 Chicken haleem made in the Instant Pot; easy to make and it's a healthy one-pot meal…
Haleem is a popular stew based dish in the Middle East, it's also popular in India, Pakistan, and Bangladesh. The traditional way of making haleem is time-consuming as the lentils and legumes are soaked in water overnight and then slow-cooked along with beef or mutton/goat the next day. Aromatic whole spices are ground into a fine powder and added to the lentil/legumes and meat while slow cooking. After a few hours of slow cooking, everything is ground coarsely and garnished with lime juice, fried onions, and cilantro. A perfect one-pot meal that is so comforting.
Somedays, I can get really lazy, that's when I buy the store-bought Haleem mix: Shan brand that has the whole lentil/legume mix and the spice mix. In the Instant pot, making chicken haleem is effortless. I just add all the ingredients into the pot and pressure cook for 25 minutes. After pressure cooking, I coarsely grind the chicken and lentil/legumes using a hand-held blender, and garnish with lime juice and cilantro.
A huge bowl of this amazing haleem is perfect for any time of the day. It's healthy and nutritious. Since I've used chicken breasts, it's very healthy.
Cooking Video
Instant Pot Easiest Chicken Haleem- Easy to make & Healthy Haleem Recipe
Ingredients
Boneless chicken, diced- 2 chicken breasts or thighs
Shan brand Haleem lentil mix- 2 cups
Haleem spice mix- 3 to 4 tbsp, based on your spice level
Water- 6 cups
Cilantro, chopped- ¼ cup
Freshly squeezed lime juice
Fried onions (optional)
Instructions
I always use Shahi Haleem mix Shan brand, the box has the whole lentils/legumes mix and the spice mix.
Note: Don't buy the easy cook haleem mix that has ground lentil/legumes, it doesn't taste that good.
Lentil/legume mix is a combination of whole wheat, whole barley, urad dal, chana dal, rice & moong dal. The amount of whole wheat & barley are more than the othe lentils.
Take the lentils in a strainer & rinse well under running water till the water turns clear.
Soaking the lentils is not required.
If you prefer you could soak the lentils for a few hours.
I cook haleem in my Instant Pot, you can also use a regular pressure cooker.
Add the diced chicken breast and the rinsed lentils/legumes to the stainless steel pot.
Add 2 tbsp of spice mix, combine well.
The spice mix is quite spicy, so while pressure cooking add 2 tbsp & after cooking you can add more spice based on your spice level.
Add 6 cups water & combine well.
Close the pot with the lid.
Select pressure cook setting, set the time to 25 minutes at high pressure.
Click start if using Instant Pot Ultra model. (Turn pressure release valve to Sealing in 7 in 1 DUO model).
After 25 minutes of cooking, let the pressure release naturally for 5 minutes & then do a quick pressure release.
We have to coarsely puree the haleem.
If using a hand-held immersion blender, immerse the hand blender into the haleem and coarsely puree. Don't make into a smooth paste, has to be coarsely pureed.
Or transfer some of the cooked haleem to a blender jar and coarsely puree it & transfer it back to the stainless steel pot.
Do not puree to a smooth paste. It should be coarse so that we can enjoy the bite of legumes/lentils and chicken.
Have a taste and add 1 to 2 tbsp of spice mix according to your spice level & cook in saute setting for 3 minutes.
Add chopped cilantro & combine well.
Take the stainless steel pot out of the main pot.
Serve in soup bowls.
Add a dash of freshly squeezed lime juice.
If you want you could also top with some fried onions.
Enjoy while its warm, this can be enjoyed as it is or along with pita bread.