Roasted coconut and dried red chili chutney along with dosa or idli is truly a South Indian comfort food…
This is an easy to make chutney recipe made with coconut, dried red chilies and dals. I've roasted the coconut slightly before grinding and then made the tempering and poured over the ground coconut mixture.
Tasted really good and I served with dosa.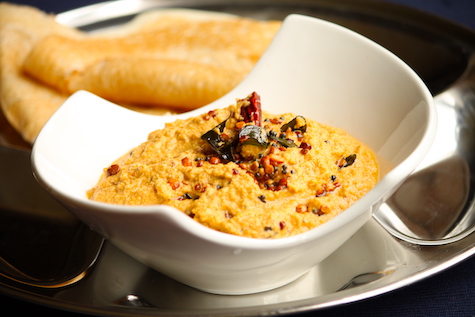 Coconut Dried Red Chili Chutney- Roasted Coconut Chutney Recipe
Ingredients
Fresh Tamarind extract- ½ cup (2-inch slice soaked in ½ cup water)
For Grinding
Chana dal- 2 tbsp
Urad dal- 1½ tbsp
Dried red chilies- 4 to 5 (if you like the heat add 5)
Curry leaves- 1 sprig
Grated coconut- 1½ cups
Salt- ¾ to 1 tsp
For making Tempering
Coconut oil- 2 tbsp
Mustard seeds- ½ tsp
Chana dal- 1 tsp
Urad dal- 1 tsp
Dried red chili- 2
Curry leaves- 1 sprig
Instructions
In a bowl, soak 2-inch fresh tamarind in ½ cup water for 5 minutes. Squeeze the tamarind well in water to release the juice, Drain the tamarind juice and discard the skin. Keep aside.
Roasting coconut: Place a non-stick pan over medium heat.
Add chana dal, saute for a few seconds.
Add urad dal, saute till both dals turn light golden.
Add dried red chilies and curry leaves; saute for 2 minutes.
Add grated coconut and roast for 3 minutes. Do not roast till golden brown. Coconut has to be only slightly roasted.
Remove the pan from the heat, let cool down a bit.
To a blender, add the roasted coconut mix and salt.
Add ½ cup fresh tamarind extract.
Add 1 to 1½ cups water.
Grind till smooth paste.
Transfer to a bowl. Taste and add more salt if required.
Keep aside.
Making Tempering
Place a non-stick pan over medium heat. Add 2 tbsp coconut oil.
Add chana dal and urad dal, let turn golden.
Add dried red chili and curry leaves, saute for a minute.
Pour the tempering over the chutney.
Serve along with dosa, idli, appam or rice.