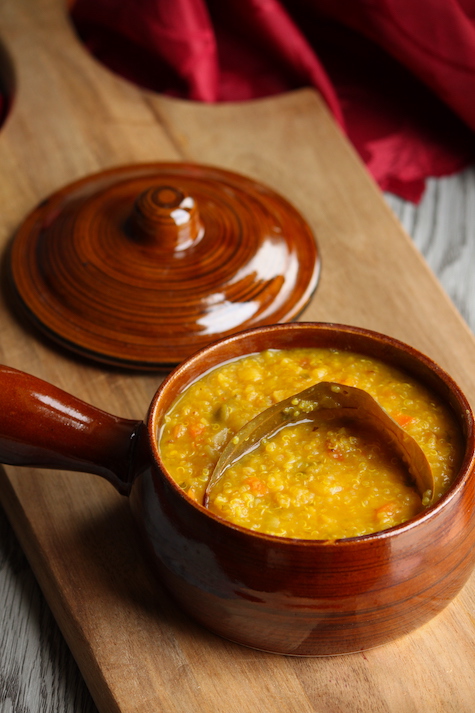 15 Minute Instant Pot Quinoa Khichdi or Porridge…
This has turned into my favorite dish with quinoa. Healthy, nutritious and filling khichdi or porridge. Khichdi or Khichadi is a rice & lentil based dish,  quite popular in India. Authentic khichdi is made out of rice and lentils. I've replaced rice with quinoa, turned out awesome.
Cooking Video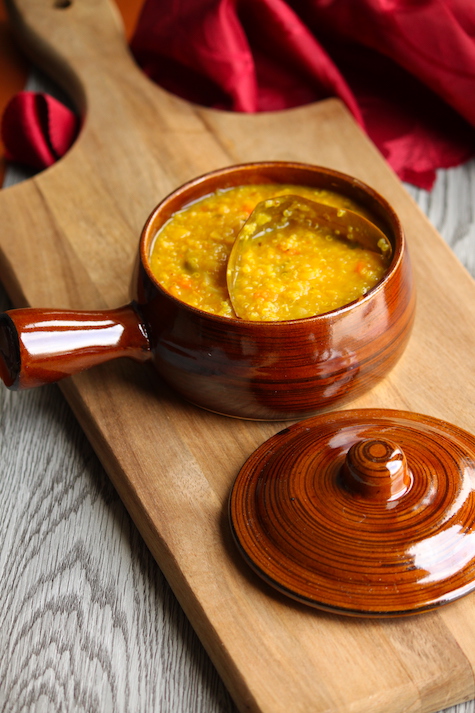 Instant Pot Quinoa Khichdi- 10 minute Quinoa-Lentil Porridge
Ingredients
Ghee- 2 tbsp
Dried bay leaf- 1
Garlic, chopped- 2 cloves
Ginger, chopped- 1 tbsp
Green chilies, chopped- 2
Cumin seeds- 1 tsp
Onion, chopped- 1
Salt- 1½ tsp
Carrot, chopped- 1
Tomato, chopped- 1
Toor Dal or Mung Dal- ¾ cup (rinsed)
Quinoa- ¾ cup
Turmeric powder- ½ tsp
Garam Masala- ¾ tsp
Water- 3 cups
Cilantro, chopped- ¼ cup
Instructions
Turn on the Instant Pot.
Select Saute setting at normal temperature.
When the display turns hot, add 1 tbsp ghee.
Add dried bay leaf, chopped garlic, ginger, cumin seeds and green chilies; saute for 3 minutes.
Add onion and 1 tsp salt. Saute for 2 minutes.
Add carrot, tomato, toor dal, quinoa, turmeric powder, garam masala, water and cilantro; combine well.
I've used toor dal, you can also use yellow mung dal, rinsed well under running water.
I didn't rinse or soak the quinoa, added directly to the pot from the packet.
Close with the lid.
Cancel Saute. Select Pressure cook setting, set TIME TO 10 minutes at high pressure.
If using 7 in 1 duo IP, turn the pressure valve to SEALING.
After 10 minutes of pressure cooking, do a quick pressure release. You can do natural pressure release also. I've zero patience and tend to do quick pressure release while cooking in IP 🙂
Open the lid, taste the khichdi and add salt if required.
Add 1 tbsp ghee and combine well to the khichdi; tastes delicious.
Serve into soup bowls and enjoy this healthy and nutritious khichdi.
Notes
Quinoa can be replaced with basmati rice or long grain rice.
You can skip sauteing ginger/garlic/onions; dump all the ingredients into the pot and pressure cook for 10 minutes.
Can be also made with just quinoa without the toor dal.