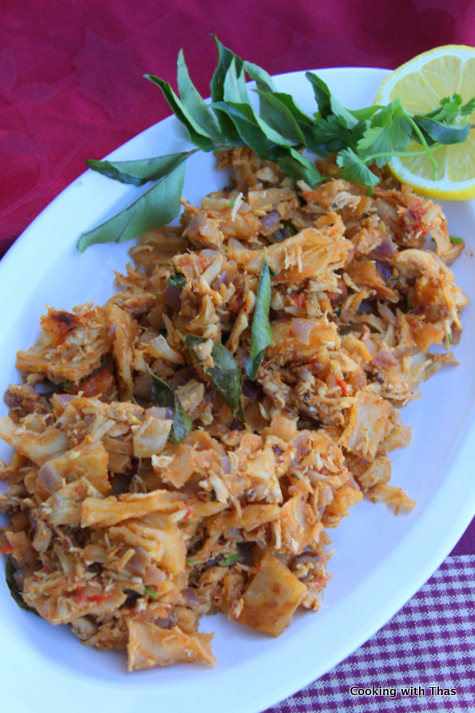 Kothu Parotta is a popular South Indian street food delicacy. For making this, parotta (flatbread made with all purpose flour) is shredded into bite size pieces and stir fried with chicken along with other spices. It tastes delicious with raita…
Kothu Parotta is mostly sold at small restaurants or by street vendors and is popular in Kerala and Tamil Nadu. Pre made Parottas are shredded into small pieces and stir fried with cooked chicken. It's cooked on a large cast iron pan, stainless spoon is used to stir fry which gives out that amazing sound of stir frying. You could hear the sound of stir frying kothu parotta from a long distance and will tempt you to make a stop at the store and devour a plate.
Making kothu parotta is very easy if using store bought parottas. Making parottas from scratch can be time consuming, so either you can make it from scratch or go with the effortless way of using the store bought parottas.
This is also a great way of using up all the leftover parottas and the chicken curry. My mom and grandma used to turn the leftover parottas into kothu parotta the next day and we enjoyed it more than the parottas by itself. This can be made with chicken, mutton, beef or just with veggies. Usually, shredded parottas are stir fried with leftover chicken curry. I didn't use chicken curry, instead I cooked the chicken separately and added to the parottas.
Kothu parotta tastes even more delicious when served with raita (yogurt mixed with red onion and tomatoes). This dish is definitely worth trying, tastes delicious and you get to enjoy both parottas and chicken together.
If you want to make parottas from scratch, go ahead here is the recipe for making eggless parottas. It's not that hard, it's fun 🙂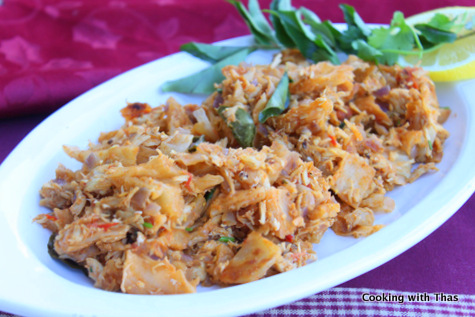 Preparation Methods
Chicken Kothu Parotta Or Chicken and Parotta Stir fry
Ingredients
For marinating chicken
Chicken breast, cubed small- 2 (or use thighs or bone-in pieces)
Ginger-garlic paste- ½ tbsp
Chili powder- 1 tsp
Fennel powder- 1 tsp
Coriander powder- 1 tsp
Garam masala- ½ tsp
Curry leaves- 6 to 7 leaves
Salt- to taste
To crush in mortar-pestle
Ginger- 2 inch slice
Garlic- 2 large cloves
Green Chilies, chopped- 2
For stir frying
Coconut oil or vegetable oil- 1½ tbsp
Onion, chopped very small- 2
Garam Masala- ½ tsp
Tomatoes, chopped-2
Egg- 1
Red Kashmiri chili powder- ½ to 1tsp (if more spice needed)
Fennel powder- ½ tsp
Coriander powder- ½ tsp
Parotta, shredded- 6 small parottas or 3 large
Tomato ketchup- 2 tbsp
Lemon juice- ½ tbsp
Cilantro, chopped- 2 handfuls
Curry leaves- 5 to 6 leaves
Salt- to taste
Instructions
In a saucepan combine the chicken along with all the above mentioned ingredients "for marinating chicken". Cook covered till chicken has cooked well and water from the chicken dries off. Add 1 tbsp oil and stir fry the cooked chicken till it turns light brown. Keep aside.
After the chicken cools down, shred chicken using a fork or your hand. Keep aside.
If using bone-in chicken shred the meat and discard the bones.
Stack up all the parottas and cut into small pieces using a sharp knife or just shred it. Keep aside.
In a mortar and pestle, coarsely crush the ginger/garlic and green chilies. Keep aside.
Place a large wok or cast iron or non-stick pan over medium heat, add oil.
Add onions, saute for a few minutes.
Add the crushed ginger-garlic-green chilies and garam masala, saute till onions turn light golden in color.
Add tomatoes, cook covered till tomatoes are mashed up.
Add chili powder, fennel powder, coriander powder and salt, combine well and cook for a minute.
Slide the onions/tomatoes to one side of the pan, crack an egg on the other side and scramble the eggs. Combine with the onion-tomato mixture.
Add the shredded cooked chicken, combine well and cook for a minute.
Add shredded parottas, combine well and cook covered for a few minutes.
Add tomato ketchup, mix well and cook for a couple of minutes.
Finally, drizzle lemon juice, combine well.
Add cilantro and curry leaves, cook for a minute.
Taste and add more salt or chili powder for spice if needed.
Remove the pan from the heat and keep it covered for sometime.
Serve along with Yogurt Raita.
Notes
Alternatively, you could use leftover chicken curry instead of cooking the chicken separately. Heat up the chicken curry till the liquid dries off, add shredded parottas and stir fry.