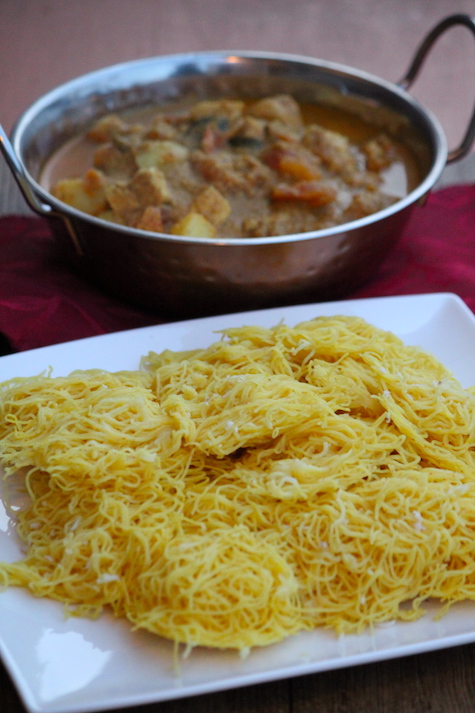 Make colorful idiyappams or string hoppers, by adding spices to the dough…
Idiyappam or string hopper is a  popular South Indian & Srilankan breakfast dish made with rice dough. Idiyappam making is an interesting and fun process, please watch the below video for making the perfect idiyappams.
Masala Idiyappam- Masala String Hoppers- Idiyappam Recipe
Ingredients
Rice flour- 1½ cups (I used Double horse brand)
Water- 1½ cups
Chili powder- ¾ tsp
Turmeric powder- ¼ tsp
Garam Masala- ½ tsp
Coriander powder- 1½ tsp
Salt- ½ tsp
Grated coconut- ½ cup
Coconut oil- to grease plates
Instructions
Place a wide saucepan over medium heat, add water and let the water come to a slight boil.
Add chili powder, turmeric powder, garam masala, coriander powder and salt; combine well.
Add rice flour. Combine well using the back of a wooden spoon.
Remove the pan from the heat.
Depending on the kind of rice flour you have used, amount to water to be added will vary. Add enough water or flour to make a soft dough.
For Double horse brand idiyappam flour, for 1½ cups rice flour, 1½ cups water made a soft dough.
Do not make into a hard dough, it will be hard to make the idiyappam in the mould.
Let cool down for 5 minutes; do not let the dough cool down completely, dough will turn dry.
While the dough is warm, knead well for at least 5 to 10 minutes till soft and smooth.
Divide the dough into 4 equal parts.
Grease idli plates with oil; add 1 tbsp grated coconut.
Fill the idiyappam mould with one handful dough and make idiyappams (watch the cooking video). Let idiyappam fall on the plates.
Stack the idiyappam plates.
Place a steam cooker or a large saucepan that can fit the idiyappam plates over medium heat.
Add 1 cup water.
Place the stacked up idiyappam plates into the steam cooker or saucepan.
Cover with the lid and steam cook for 10 minutes.
After 10 minutes, remove the steamer from the heat, let cool down.
Open the steamer and remove the plates from it.
Using a spoon, slide the idiyappam from the plates on to a platter.
Serve the hot idiyappams with your favorite curry. I served with Chicken Curry.
Notes
i used Double Horse brand idiyappam rice flour, available at most Indian stores. For double horse brand, for 1½ cups rice flour, 1½ cups water was added to make a soft dough.
Rice : water ratio will vary based on the kind of rice flour you are using. Adjust accordingly to make a soft dough.
Ensure the dough doesnt turn hard, it will be difficult to make the idiyappams in the mould.