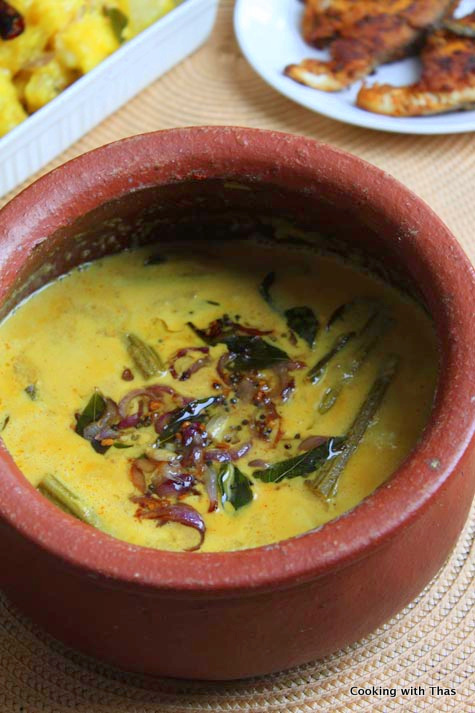 Kingfish cooked in a delicious coconut gravy…
I've already posted many South Indian recipes for making fish curries. In South India, fish being one of the staple foods can be cooked in different ways, in fact, each district in Kerala has its own signature ways of making fish. Fish curries can be made with roasted coconut or coconut milk or without adding any coconut.
In my hometown, there are 3 popular ways of making fish curry: fish cooked in roasted coconut gravy, fish cooked in ground coconut without roasting the coconut, and fish curry made by cooking in onion/tomato & spices (without the addition of coconut).
This is a slightly different kind of fish curry, an easy-to-make yet delicious fish curry that can be served with rice, idiyappam, appam, chapati, orotti, etc,
For more fish curry recipes, click here.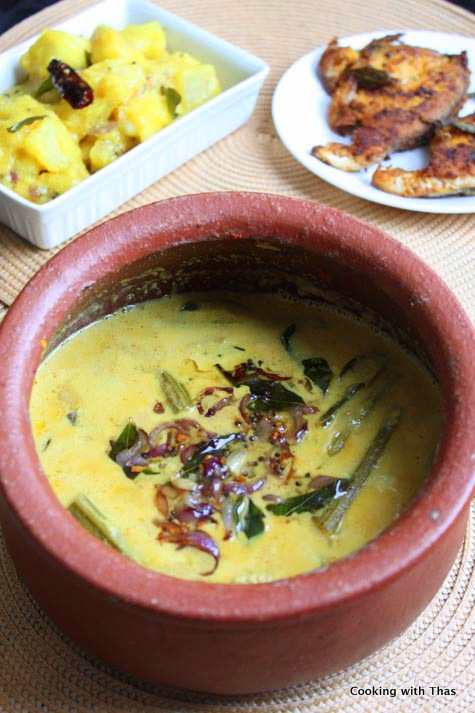 Preparation Pictures
My cooking range is a ceramic flat top, luckily the clay pan is surviving well on it. It's recommended to place the clay pans over the flame burner.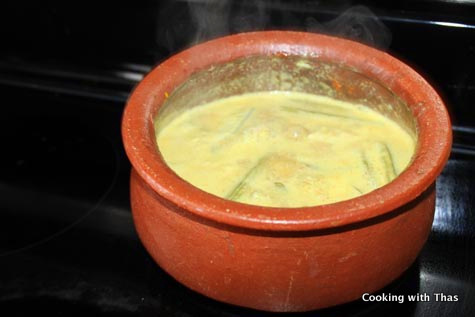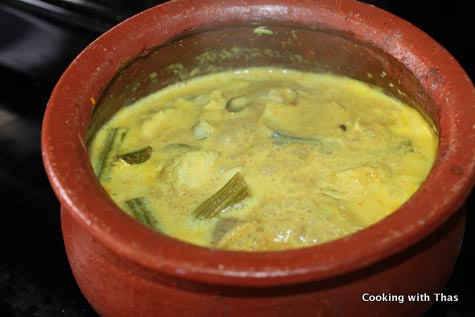 Fish in Coconut Gravy - Kerala Style Fish Curry
Ingredients
To grind
Shallots- 2 or 4 small/pearl onions
Green chilies, chopped- 2
Ginger, chopped- 1-inch slice
Garlic, chopped- 2 large cloves
For cooking
King fish, cubed- 8 pieces (or use salmon or pomfret)
Morniga or drumsticks, cut into 3 inch long- 10 (optional)
Coconut oil- 1½ tbsp
Kashmiri or regular chili Powder- 1½ tsp
Turmeric powder- ⅛ tsp
Coriander powder- 1 tsp
Crushed fenugreek seeds- ¼ tsp
Coconut milk- 1 cup
Warm water- ¼ cup
Tamarind extract- 2 inch fresh tamarind soaked in ¼ cup warm water
Curry leaves- 1 sprig
Salt- 1½ tsp
For tempering
Oil- 1 tbsp
Mustard seeds- 1 tsp
Shallots or small/pearl onions, chopped- 3
Curry leaves- 1 sprig
Fenugreek seeds- 1 tsp
Instructions
Clean the kingfish well under running water, you could also add ½ tbsp salt and 1 tbsp lemon juice to remove any fish odor. You can also use salmon or pomfret for making this curry.
To a blender jar add all the above mentioned ingredients "to grind" & grind to a smooth paste, keep it aside.
Soak the fresh tamarind in warm water for 5 minutes, combine well in water, strain the juice & discard the skin. Keep it aside.
Place a claypot or saucepan over medium heat, add oil.
Add the ground paste, saute for a few minutes in oil till the raw smell of onion/ginger/garlic goes away.
Add curry leaves, combine well.
Add chili powder, turmeric powder, coriander powder and crushed fenugreek seeds, combine well and saute for a minute.
For less spice add Kashmiri chili powder.
If adding Kashmiri chili powder, curry will have a nice vibrant red color.
Add coconut milk, season with salt.
Let coconut milk come to a slight boil.
Add tamarind juice, combine well.
Add the fish pieces.
If adding moringa or drumstick add that as well, adding moringa is optional.
Gently combine well, cook covered over medium heat for 15 minutes until the fish has cooked through.
The gravy will be thick, add ¼ cup warm water to thin it down.
Taste and add more salt or chili powder (if you like this curry to be spicy).
Open the lid, cook for 5 more minutes till the gravy has slightly thickened.
Don't stir the curry frequently as this will cause the fish to break apart.
Take the pot off the heat and keep it covered for a few minutes.
Making the tempering: place a small frying pan over medium heat, add oil.
When the oil turns hot, add mustard seeds let splutter.
Add small/pearl onions.
Saute till onions turn golden brown.
Add fenugreek seeds & curry leaves, saute for a few seconds. Don't burn the seeds.
Add the tempering over the fish curry, keep the curry covered for sometime.
Serve the curry along with rice, kappa-tapioca, chapati, pathiri, orotti, puttu, appam, etc.
The fish curry tastes even more delicious the next day.
Notes
Adding drumstick or moringa is optional.
Pomfret, sardines, anchovies, mackerel, salmon can also be added.