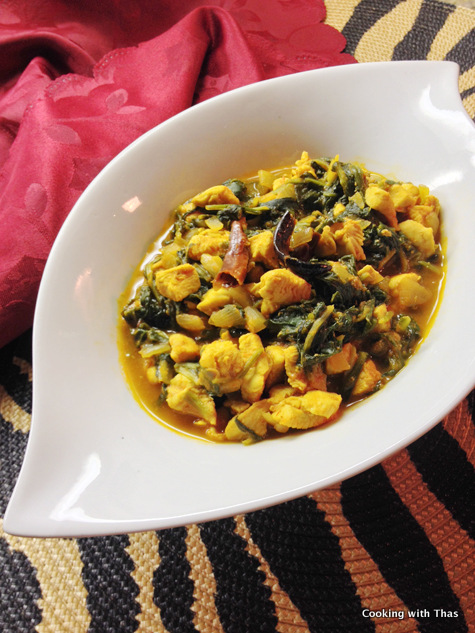 You get to enjoy the meat and the green as well…
On week days, I get lazy to make more than one dish so I usually prepare a dish using chicken which is served along with pasta or noodles or rice or roti. Most of the time I make sure to add a lot of veggies, greens or lentils to my chicken dish so that one dish has literally everything in it. This is one such dish, you get to enjoy the chicken as well as the spinach. I've used boneless chicken breast, so it's quite a healthy dish and can be served with rice, roti etc.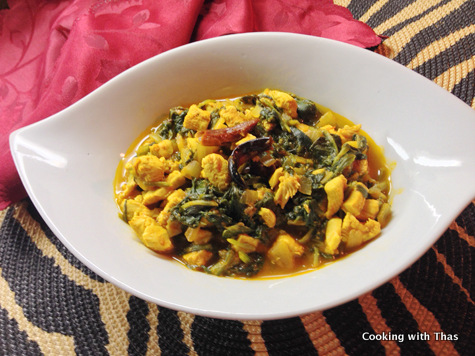 Spinach Chicken Curry
Ingredients
Oil- 2 tbsp
Cumin seeds- 1 tsp
Whole dry red chili- 2
Ginger, minced- 2 tsp
Garlic, minced- 1 tsp
Bay leaves- 2
Onion, chopped small- 2, medium
Turmeric powder- ¼ tsp
Kashmiri red Chili powder- ½ tsp
Coriander powder- 1 tsp
Garam masala- ½ tsp
Tomato sauce- 1½ cups
Chicken breasts, diced- 2 breasts
Fresh Spinach, chopped- 1 bunch
Water- to thin down gravy
Salt- to taste
Instructions
Heat a saucepan over medium heat, add oil.
Add cumin seeds, sauté for a few seconds.
Add red chili and bay leaves, sauté for a few seconds.
Add ginger and garlic chopped, sauté till golden in color.
Add onions and a few pinches of salt, sauté till translucent.
Add turmeric powder, sauté till onions turn golden in color.
Add Kashmiri chili powder, coriander power and garam masala, combine well.
Add tomato sauce, combine well.
Add diced chicken, combine well and cook covered till chicken is well done.
Open the pan and add the chopped fresh spinach, cook covered for a few minutes.
Add water to thin down the gravy, cook till it thickens.
Have a taste, add salt and more chili powder for spice if needed.
Transfer the spinach chicken curry to a serving bowl and serve with Cumin rice, plain basmati rice, chapatti or roti.