Ground beef korma is a true delicacy…
Finally, I have turned into an early bird and I love the early morning drive. The best part is that I get to see the Sunrise everyday, it's one of the most beautiful scenes. Yesterday, I couldn't help clicking a picture of the marvelous sunrise, sharing with you all.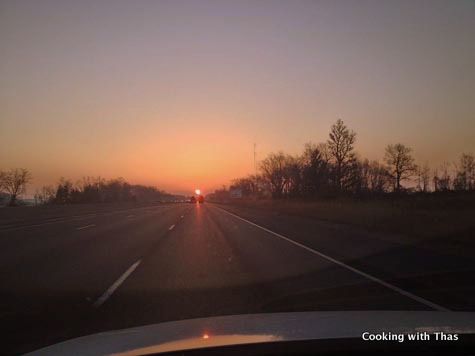 One of my favorite ways of devouring ground beef is by topping it on the pizza crust, ground beef pizza it is. Here is my second favorite dish with ground beef, ground beef korma. The other day, I made this and served with orotti or rice roti. Ground beef in coconut milk tasted so delicious.
Step by Step Pictures
Ground Beef Korma - Ground Beef in Coconut Milk
Ingredients
Oil- 2 tbsp
Cumin seeds- 1 tsp
Whole cardamom- 2
Whole Cloves- 2
Cinnamon- 2 inch
Bay leaves- 2
Onion, chopped- 2,
Ginger-garlic paste- 1 tbsp
Ground beef- 1 lb or 0.5 Kg
Kashmiri red chili powder- 1 tsp
Turmeric powder- ⅛ tsp
Cumin powder- 1 tsp
Fennel powder- 1½ tsp
Ground black pepper- ½ tsp
Chili powder (regular for spice)- ½ tsp
Coconut milk- 1 cup
Water- ¼ cup
Salt- to taste
Cilantro, chopped- ¼ cup
Instructions
Place a large pan over medium heat, add oil.
Add cumin seeds, whole cardamom, cloves, cinnamon and bay leaves, saute for a few seconds.
Add onions, and a few pinches of salt, saute till translucent.
Add ginger-garlic paste, cook for a few minutes till onions turn light golden.
Add ground beef, saute and break any lumps that forms.
Cook covered till beef has cooked through.
Add Kashmiri red chili powder, turmeric powder, cumin powder, fennel powder, ground black pepper, chili powder and salt. Combine well.
Cook for a few minutes.
Add coconut milk, combine well and cook for 5 minutes.
Add water to thin it down, cook for a couple of minutes.
Have a taste and add more salt or chili powder/ground black pepper if needed.
Add cilantro, cook for a minute.
Remove the pan from the heat and keep it covered.
This can be served with chapati, rice orotti, palada or naan.