Instant guilt free relief to cake cravings…
Remember my 1 minute microwaved chocolate cake in a mug??? It's a winner! I've received so many good feedbacks from my readers and my Man has been a great fan of that recipe. He loves the fact that it's made in a mug and can be made effortlessly. Whenever he gets the craving for cake and want to enjoy without any guilt he makes that. In fact, today he had a stressful day at work and he ended up making the cake twice. It was a stress reliever for him. Thank God, it's made in a mug not in a huge cake pan.
I like chocolate cake but not a huge fan. So, I wanted a cake that's made without adding cocoa powder and I found that adding semolina gave a nice texture and taste to the cake. I experimented making semolina cake in the mug quite a few times and finally tweaked the recipe to my likings. I wanted to add less oil to my cake so this version calls for only 1 1/2 tbsps of oil. When my Man enjoys chocolate cake, I enjoy this semolina cake from the mug made in the microwave.
Chocolate Semolina cake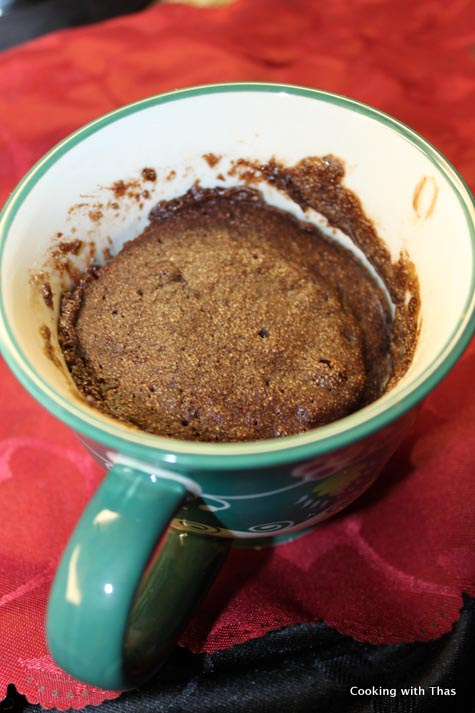 Microwaved Semolina Cake in a Mug
Ingredients
Semolina- 3 tbsp
All purpose flour- 3 tbsp ( for chocolate version: add 2 tbsp flour and 1 tbsp cocoa powder)
Baking powder- ¼ tsp
Sugar- 1½ tbsp
Milk- 4 tbsp
Oil- 1½ tbsp
Crushed Walnuts or any nuts- ½ tbsp
Vanilla extract- ¼ tsp
Instructions
In a large mug, combine all the above mentioned ingredients till smooth.
It's very important that you combine the ingredients really well without any lumps.
Place the mug in the microwave and microwave at high power for 1 minute.
The time might vary depending on the type of microwave power settings, if the center hasn't cooked well after a minute cook for a few more seconds.
Let cool down a bit and enjoy.
If you want you could drizzle honey or maple syrup over the cake for extra sweetness.
Chocolate cake in a Mug recipe click here
Notes
For making chocolate semolina cake: replace 1 tbsp flour with 1 tbsp cocoa powder.