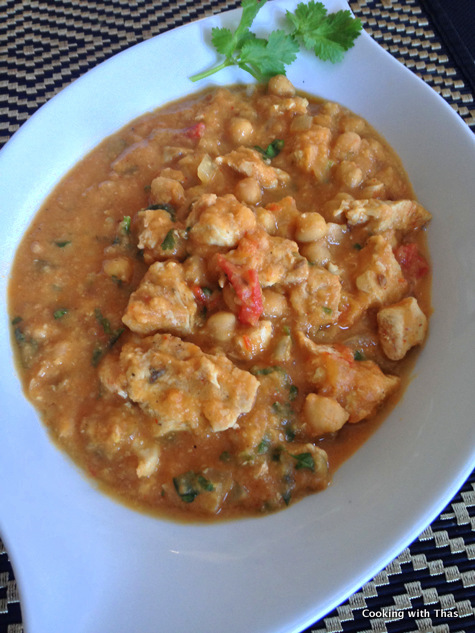 Protein rich dish with chicken and chick peas…
Sipping hot coffee and cuddled up in the blanket; enjoying one of the coldest days of this season. We are having crazy freezing weather this week, it seems tomorrow is going to be even more worse with -20 C. As long as I can sit at home and look through the frozen window, I enjoy this snowy weather. Today, I am enjoying even more as my Man took over the kitchen and made his specialty carrot chicken for lunch. Basically, no work and all play for me. I love my man's carrot chicken, he's become an expert in making it and every time it tastes even more delicious.
I hope everyone in the east coast is staying indoors and keeping warm.
Here is the snow capped outdoors, it's beautiful despite the cold.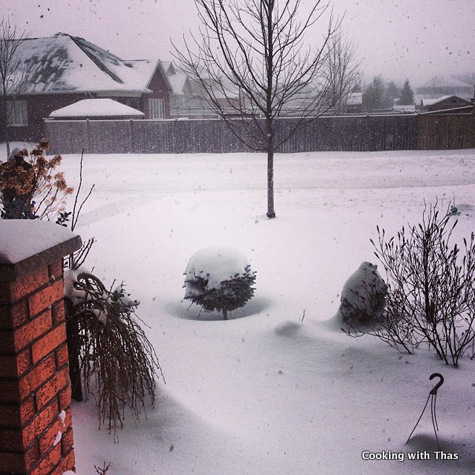 Among the dried beans my most favorite is chick peas or garbanzo beans; it has a very delicate nutty and sweet flavor and can be eaten as it is when it is boiled. So many dishes can be made with chick peas: falafel, hummus, chana masala, soups, salads and a lot more. Or just roasting the chicken peas that are sprinkled with herbs and spices in the oven makes it a crunchy and crispy snack.
Last weekend, I had made this chicken in chick peas gravy. I was planning to make chana masala and somehow it turned into this. I am so glad that I pureed half of the cooked chick peas and combined with the chicken and other spices. This is a very rich dish with thick chick peas gravy and you get to enjoy chicken as well.

Chicken in Chick Peas Gravy - Chicken in Garbanzo Beans Gravy
Ingredients
For marinating chicken
Chicken breasts, boneless cubed- 2 breasts
Chili powder- 1 tsp
Ground cumin- ½ tsp
Ground pepper- ½ tsp
Salt- to taste
For making gravy
Oil- 2 tbsp
Cumin seeds- 1 tsp
Onion, chopped- 1, large
Ginger-Garlic paste- ½ tbsp
Tomatoes, chopped- 2
Chick peas, cooked and canned- 1 large can or 2 cups
Chili powder- ½ to 1 tsp or as needed
Coriander powder- 1 tsp
Salt- to taste
Cilantro, chopped- 2 handfuls
Instructions
In a bowl, combine the cubed chicken along with the above mentioned ingredients "for marinating chicken.
In a wide pan, cook the chicken covered till it has cooked well and turns slightly golden brown in color. Keep aside.
In the same pan used for cooking chicken, add oil.
Add cumin seeds, saute for a couple of seconds.
Add onion and sprinkle salt on it, saute for a few minutes.
Add ginger-garlic paste, saute for a minute.
Add tomatoes, cook covered for sometime.
Rinse the canned chick peas under running water, drain it.
Add 1½ cups of chick peas to the onion-tomato mixture. Save the remaining ½ cup chick peas for later use.
Cook covered for sometime till chick peas turn slightly tender.
Remove the pan from the heat and let cool down a bit.
Transfer the mixture to a blender, add enough water to make a paste.
Grind the mixture at low speed to a smooth gravy constituency.
Return the ground mixture to the pan.
Add the cooked chicken and rest of the chick peas into the gravy. Combine well.
Season with chili powder, coriander powder and salt. Combine well and cook for 5 minutes.
If the gravy is too thick you could add water to thin it down.
Finally, sprinkle chopped cilantro, cook for a minute.
Remove the pan from the heat and keep it covered.
Serve warm along with chapati, naan, batura or rice.