This fancy dish can make a perfect brunch or lunch or dinner…
As weekend comes to an end I feel numb, this has been one feeling that's consistent over the years. However, after the monday blues, I fall onto the weekly track and regains my vigor by Tuesday morning.
In North America, most of our conversations start with weather, glad that we have different seasons in their utmost beauty. We are having the beautiful Fall season now: leaves have changed its color from yellow to red, some have fallen early, some are still there and continues to mesmerize us. One of my favorite activities during Fall is clicking the beautiful view of Fall colors. Sharing a picture with you all: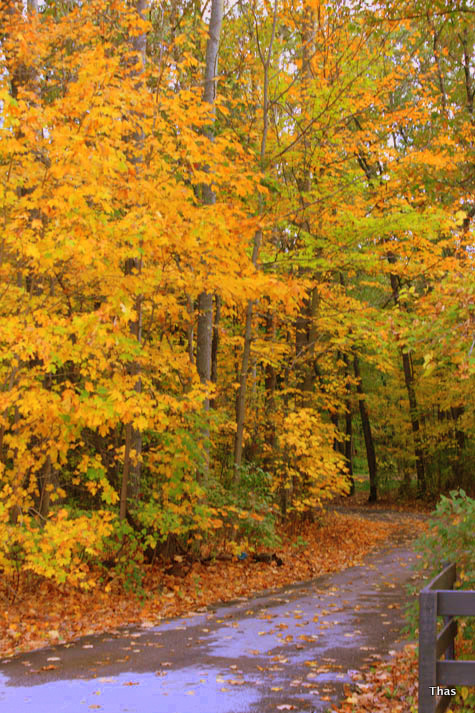 I fancy fancy meals. Most of the times, fancy meals can be whipped up quickly without much effort. All you have to do is mix and match certain ingredients or dishes, plate them in an appealing way and serve. That's what I did for Saturday brunch: made herb chicken, sautéed mushrooms and cherry tomatoes together along with sour cream, served them together and placed an over easy egg beside them along with a few cubes of feta cheese. Looked fancy and tasted yum!

Herb Chicken with Over Easy Egg and Mushrooms
Ingredients
For cooking chicken
Olive oil- 1 tbsp
Chicken breast, diced or cut into wedges- 2 breasts
Dried basil- 1½ tsp
Dried Oregano- 1½ tsp
Ground black pepper- 1 tsp
Salt- to taste
For cooking Veggies
Olive oil- 1 tbsp
Mushrooms, white or brown sliced- 2 cups
Cherry tomatoes- 10
Dried basil- 1 tsp
Oregano- 1 tsp
Ground pepper- ¼ tsp
Salt- a few pinches
Sour cream- 3 tbsp
Other ingredients
Egg, large
Ground pepper- to sprinkle over egg
Salt- to sprinkle over egg
Feta cheese cubes or blue cheese
Instructions
Combine the chicken with all the above mentioned ingredients "for cooking chicken", cook it covered in a wok or pan till chicken has cooked well. Keep aside.
Place same wok or pan used for cooking chicken over medium heat, add oil.
Add mushrooms, saute for a few minutes till it turns tender.
Add cherry tomatoes, dried basil, oregano, ground pepper and salt, stir fry for a few minutes, don't over cook the tomatoes.
Add sour cream, combine well and cook for a couple of minutes.
Remove from the heat and keep aside.
Making over easy egg
Heat a small frying pan, spray with non-stick cooking spray.
Crack one egg over the pan, let the bottom side cook and let the yolk set a bit.
Sprinkle ground pepper and salt.
Gently flip the egg over and cook the other side as well.
How to serve
Place the sauteed mushrooms/cherry tomatoes on a plate.
Top with herb chicken.
Place the over easy egg beside them and the blue cheese cubes.
Sprinkle dried basil or oregano over the plate. Serve warm and enjoy.