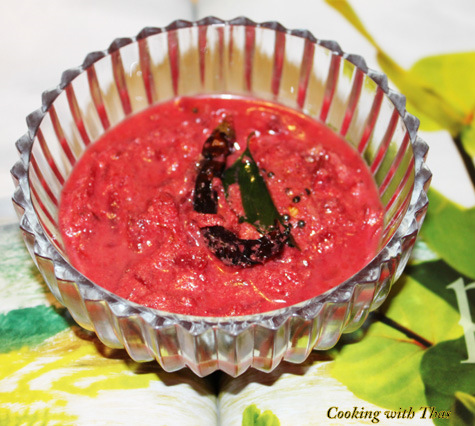 Beetroot cooked in coconut and yogurt gravy…
This is a Kerala style vegetarian dish, one of the dishes served along with Sadya. The earthy taste of beetroot, nutty coconut and slightly tangy yogurt together makes this dish tastes delish. This can be served as a side dish along with rice.
Cooking Video
Beetroot Pulissery
Ingredients
For cooking beetroot
Beetroot grated- 1, large
Turmeric powder- ¼ tsp
Salt- ½ tsp
Water- ½ cup
To Grind
Coconut grated- ½ cup
Green chilies, chopped- 1
Cumin seeds-1/2 tsp
Ginger chopped-1/2 tsp
Water- ¼ cup
Other ingredients
Yogurt or Curd, beaten- ½ cup
For Tempering
Coconut Oil- 1 tbsp
Mustard seeds- 1 tsp
Whole red chilies- 2
Curry leaves- 1 sprig
Instructions
Place a saucepan over medium heat, add grated beetroot along with turmeric powder, salt and water, cook until the beetroot has almost cooked.
Grind all the above mentioned ingredients 'to grind' in a blender to a smooth paste.
Add the ground coconut paste to the cooked beetroot and cook for a few minutes till the raw smell goes away and mixture has thickened.
Lower the heat and add the beaten yogurt/curd to the above mixture stirring constantly.
Mix well till yogurt has incorporated well.
Remove the pan from the heat and keep aside covered.
Make tempering: Place a pan over medium heat, add coconut oil and let oil turn hot.
Add mustard seeds, let it splutter.
Add whole red chilies and curry leaves, saute for a few seconds.
Add the tempering to the cooked Beetroot pulissery, close the pan with its lid, keep covered for sometime.
This can be served as a side dish along with rice.
Notes
Beetroot can be replaced with cucmber diced small, ripe mangoes diced, ripe pineapple diced.