Believe it or not! you can make a delicious chocolate cake in a mug in the microwave and it takes only a minute…
Good thing: You don't have to worry about finishing an 8×8 inch cake all by yourself, each slice filled with guilt.
Bad thing: You are going to have a mug ready to make this cake almost everyday.
As much as I love baking a huge cake, that much I freak out while I add scoops of butter/cream into it and the thought of all the fat sticking onto the walls of my inner stomach is more than a nightmare. I've always wondered how to just make a slice of cake, which would be just good enough to succumb to my sugar cravings. Recently, while searching for such recipes I came across not one but hundreds of recipes and I felt like a fool for not having tried those all these years. Well, consoling myself by saying: "It's better late than never". Most of the recipes I've read called for egg, but I somehow wanted to skip the egg. Tried without adding the egg and it came out just perfect.
This is definitely a healthy way of eating cake, a slice of cake just for you with right amount of oil and no egg. No need to wait for an hour, in less than 3 minutes you'll be sitting on your couch enjoying a chocolate cake from a mug. Wish I could make all my favorite dishes in such less time, I guess I am getting too greedy here. Bottom line is whether it's 2 minutes or many hours, I just love cooking and delicious food is my weakness.
So people, have your mug ready and you have a cake!
Eggless Chocolate cake in a Mug:
Watch the Video for making this cake:
Batter mixed in the mug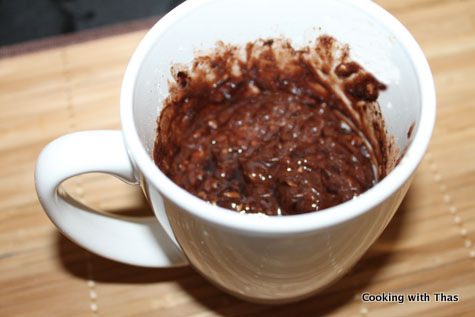 Eggless Chocolate Cake in a Mug (Microwave)
Ingredients
All purpose flour- 4 tbsp
Sugar- 2 tbsp
Cocoa powder- 1 tbsp
Baking powder- ¼ tsp
Milk, skim or whole- 3 tbsp
Oil- 3 tbsp
Vanilla extract- ¼ tsp
Sweetened coconut flakes or your favorite nuts- ½ tbsp
Chocolate chips- 1 tsp
Instructions
Use a large mug.
Combine all the ingredients in the mug using a spoon.
Thoroughly mix it so that the flour is well incorporated.
You can add chopped nuts, chocolate chips, etc.
Make sure the batter fills only half way through the mug as the cake will rise while cooking.
Keep the mug with the batter in the microwave.
Cooking time might vary depending on the microwave, I recommend cooking it first at full power for a minute and then increasing the time till a fork inserted into the center of the cake comes out clean.
To make it even more delicious, top with a scoop of icecream.
Sit back and indulge in this delicious dessert that's made effortlessly. YUM!
Notes
You can top the cake in the mug with your favorite icecream.