Homemade and healthy Energy bars or bites made with mixed nuts, dates and flax seeds…
Making homemade healthy energy bars or bites couldn't get any easier. These are super healthy and nutritious energy bars that can be enjoyed for breakfast and will help you to kick start your day in a healthy and energetic way.
I have literally stopped buying store brought energy bars, I make these quite often over the weekend, store them in an airtight container and enjoy them during the week for breakfast or as a snack in the late afternoon.
Any kind of mixed nuts can be added, I've added cashew nuts & almonds. Crushed pecans and walnuts can also be added. Adding dates is a must as it will help to bind everything together and to be rolled into round or any other shapes.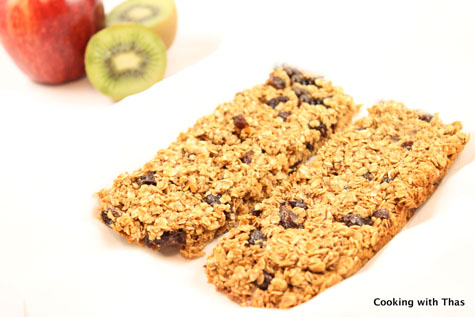 Easy Homemade Energy Bars or Bites- Healthy Energy bars with Mixed Nuts, Dates and Flax Seeds
Easy Homemade Energy Bars or Bites- Healthy Energy bars with Mixed Nuts and Flax Seeds Recipe Type : Main Author: Thasneen Prep time: 10 mins Cook time: 15 mins Total time: 25 mins Serves: 9
Ingredients
Butter or Ghee- 1 tbsp
Sesame seeds- 2 tbsp
Flaxseeds- 1 tbsp
Chia seeds- 1 tbsp
Instant Oats- ¾ cup
Whole almonds- ¼ cup (crushed)
Whole cashews- ¼ cup (crushed) or add pistachios
Raisins- 1 tbsp
Dates, pitted & chopped- 1 cup purred with 3 tbsp water
Instructions
Add the whole almonds & whole cashew nuts into a ziplock bag. Using a rolling pin, crush them.
Puree the dates with 3 tbsp water to a smooth paste.
Place a non-stick pan over medium heat. Add ghee.
Add sesame seeds, chia seeds & flaxseeds, saute for 2 minutes.
Add instant oats, raisins, crushed almonds & cashew nuts.
Saute till oats turn light golden and aromatic.
Add the pureed dates, combine well.
Lower the heat & cook for a minute.
Take the pan off the heat, let cool down.
Spread the cooled-down mixture onto a parchment paper.
If you want this to be more sweet you can also add 1 tbsp maple syrup or agave syrup or honey.
Using your clean hand, mix everything well.
Make into round shapes.
Healthy & filling snack, enjoy it for breakfast or post-lunch.
Leftovers can be stored in an air tight container & kept in the refrigerator for a week.
Notes
Curshed pecans & walnuts can also be added.