Swiss chard picked up from my garden turned into a delicious thoran, stir fry with coconut…
Thoran or veggie stir fry with coconut is one of the side dishes that's served along with Kerala lunch. Literally, any kind of veggies can be turned into a thoran. There are a few variations of thoran, grated coconut is ground & added to the veggies, or grated coconut is directly added to the cooked veggies.
Either way tastes delicious. The other day I picked up fresh swiss chard from my veggie garden & I made thoran out of it, it's super easy to make thoran & is quite healthy.
I enjoyed this thoran with rice, can also be served with chapati.
Swiss Chard Harvest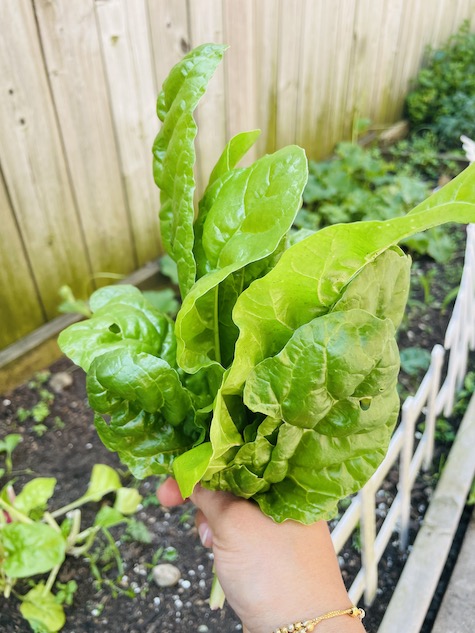 Swiss Chard Thoran - Stir Fry With Coconut | Kerala Recipe
Ingredients
Coconut Oil- 1 tbsp
Mustard seeds- 1 tsp
Dried red chilies, halved- 2
Curry leaves- 1 sprig
Shallots, chopped- 2 large shallots or 3 small/pearl onions
Salt- 1 tsp
Swiss chard leaves, chopped- 3 cups
Turmeric powder- ⅛ tsp
Chili powder- ½ to 1 tsp (based on your spice level)
Cumin powder- ½ tsp (optional)
Grated coconut- ½ cup
Instructions
Take the swiss chard leaves in a strainer & rinse well under running water. Pat dry and roughly chop the leaves.
Place a claypan or saucepan over medium heat.
Add oil, let the oil turn hot.
Add mustard seeds, let splutter.
Add dried red chilies and curry leaves, saute for a few seconds.
Add chopped shallots, season with salt. Saute till shallots turn golden in color.
You can replace shallots with small or pearl onions.
Add the chopped swiss chard leaves, cook till they turn soft.
Add turmeric powder, chili powder & cumin powder; combine well,
Add grated coconut, stir fry over high heat till coconut turns golden brown in color.
Take the pan off the heat.
Enjoy this as a side dish along with rice, roti etc.