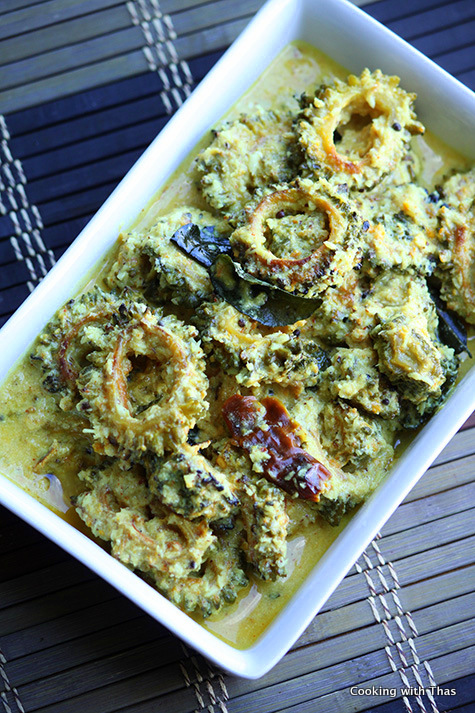 Baked bitter gourd is combined in coconut and yogurt gravy, it's bitter but tastes delicious…
One of the most bitter tasting vegetables is Bitter gourd or bitter melon, for that reason it's packed with all kinds of nutrients. It has been used for the treatment of Diabetes.
Despite being bitter, I enjoy this particular veggie when it's cooked. Well, I certainly don't enjoy when it's juiced- No no, don't challenge me to drink it, I would hide in my pantry 😛
Bitter gourd (pavakka or karela) is a common vegetable in India, enjoyed by people in the North and the South. I haven't seen this vegetable being used in any other cuisine, for that reason I have only eaten bitter gourd cooked in South Indian style. There are a lot of dishes made using this vegetable. One of my favorite dishes is made by adding jaggery and tamarind to the cooked bitter gourd, jaggery helps to make this dish taste less bitter.
Yet another dish is made by frying the bitter gourd and then coconut-yogurt paste is added to it. The other day, I made this dish, it's called kichadi, instead of frying I baked the marinated bitter gourd. I felt much better after baking them, the bitter gourd turned crispy and had a fried taste as well. It was then added to coconut and yogurt mixture. The dish is not completely bitter free, if you enjoy the slight bitterness from the bitter gourd then you'll love this dish.
When it comes to bitter gourd, my Man and I are like north pole and South pole. I love it and he hates it. So, I enjoyed this dish all by myself.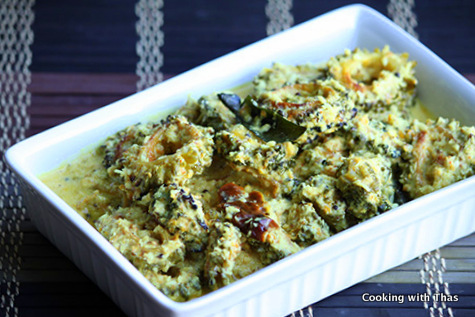 Baked Bitter Gourd- In Kerala, this is called Pavakka Kondattum and is served along with rice.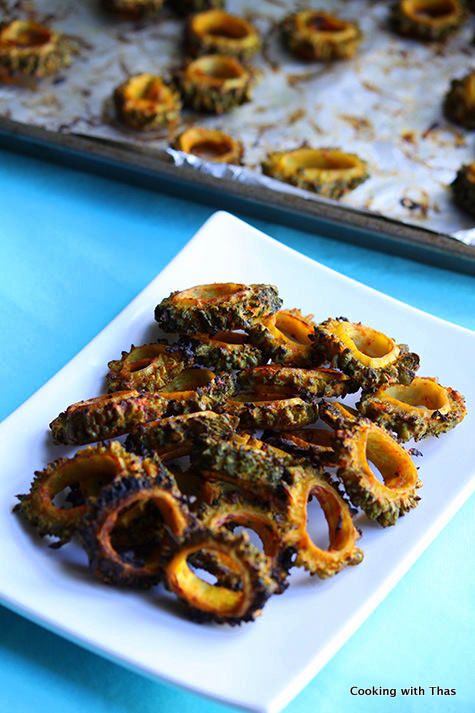 Preparation Pictures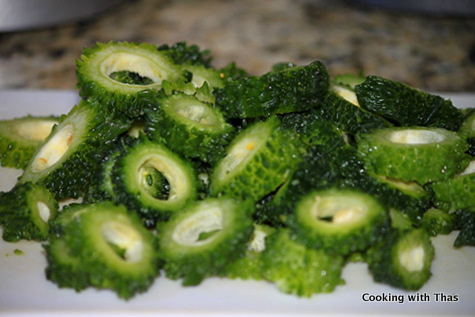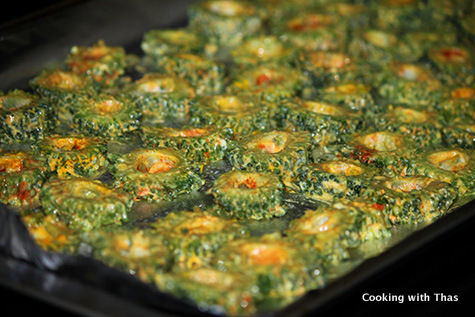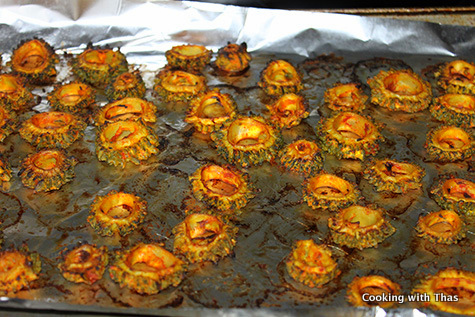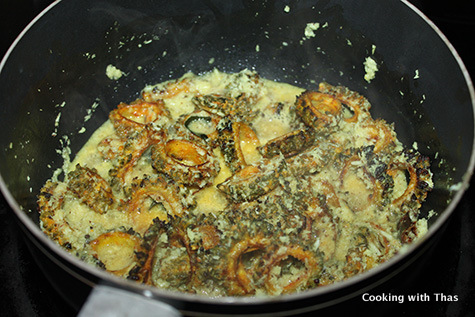 Baked Bitter Gourd Kichadi - Pavakka Kichadi
Ingredients
For baking Bitter Gourd
Bitter gourd (pavakka or karela), cut into thin rounds, remove seeds and pith- 4
Chili powder- ¾ to 1 tsp
Turmeric powder- ¼ tsp
Yogurt- 3 tbsp
Rice flour- ½ tbsp
Oil- ½ tbsp
Salt- a few pinches
To grind
Coconut, grated- ½ cup
Turmeric powder- ⅛ tsp
Cumin seeds- ½ tsp
Water- enough to make paste
For making kichadi
Oil- 1 tbsp
Mustard seeds- ½ tsp
Red whole dry chilies- 2
Curry leaves- 1 sprig
Beaten Yogurt, not sour- ¼ cup
Salt- to taste
Instructions
Cut the bitter gourd into round slices, make sure to remove the seeds and pith from them.
In a bowl, marinate the bitter gourd slices with chili powder, turmeric powder, yogurt, rice flour and oil for 20 minutes.
You could either fry or bake the bitter gourd.
If baking, preheat oven to 425 F or 220 C.
Place the marinated bitter gourd slices on a baking sheet lined with aluminum foil.
Spray the aluminum foil with non-stick cooking spray.
Bake it for 40 minutes. After 20 minutes of baking, take the baking sheet out of the oven and flip the slices to the other side and bake again for 20 more minutes till they turn crispy and gets golden brown in color.
Remove from the oven and let cool down.
Grind the coconut along with cumin seeds, turmeric powder and enough water to make a smooth paste.
Place a saucepan over medium heat, add oil.
Add mustard seeds, let it splutter.
Add dry red chilies and curry leaves, saute for a few seconds.
Add the ground coconut paste, season with salt, combine well and cook for a few minutes till the raw taste goes away.
Add the baked bitter gourd slices to the coconut mixture, combine well and cook for a couple of minutes.
If the mixture is too thick you could add little water to thin it down and cook for a minute.
Remove the pan from the heat, let cool down for a minute and then add the beaten yogurt and combine well.
Do not add yogurt while keeping the pan over the heat, it will curdle.
Keep the pan covered for sometime.
Serve this as a side dish with rice. Or serve this along with other Sadya dishes.
Notes
Marinated bitter gourd slices can be fried or baked.

Fried or baked bitter gourd can be served along with rice: called as Pavakka Kondattum.