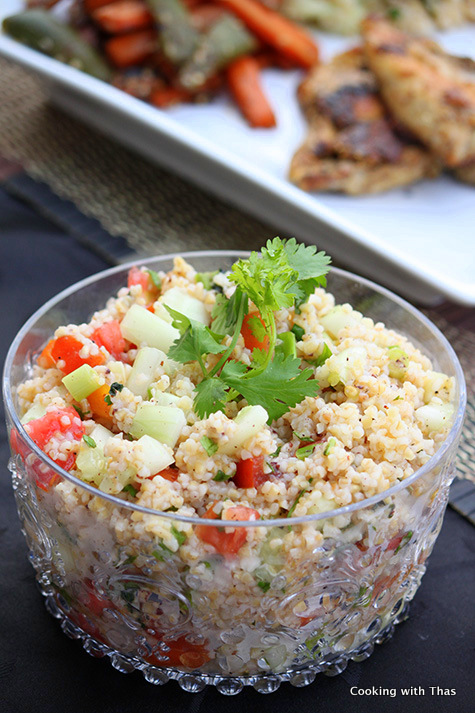 Cracked wheat mixed with veggies and perfectly seasoned, a truly delicious Summer salad…
Looking at the cracked wheat that was sitting comfortably in my pantry, I had to ask myself this question: how can I turn cracked wheat into something delicious??? I'd tried making cracked wheat chicken pilaf before and loved it. I wasn't up for making it again as I wanted to make something different. That's when the thought of turning cracked wheat into a salad hit me real hard. It was a hot day, so salad sounded great. Also, I wanted to use up the cucumber and tomatoes that I'd harvested from my garden. so, I decided to combine cooked cracked wheat with cucumber and tomatoes and drizzled lemon juice over it. I also added a little bit of sumac which imparted a slight sour taste to the salad. Finished it off with cilantro and mint leaves, now the salad got a refreshing uplift as well.
Cracked wheat turned into a beautiful and refreshing salad, I couldn't get over with this salad.
What is Sumac? Sumac seasoning is commonly used in Mediterranean and Middle Eastern cuisine. Sumac is a shrub that grows widely in Mediterranean region. The red coloured berries from the plants are dried and powdered, it has a sour taste. It's used as the seasoning in the popular Fattoush- Arabian salad.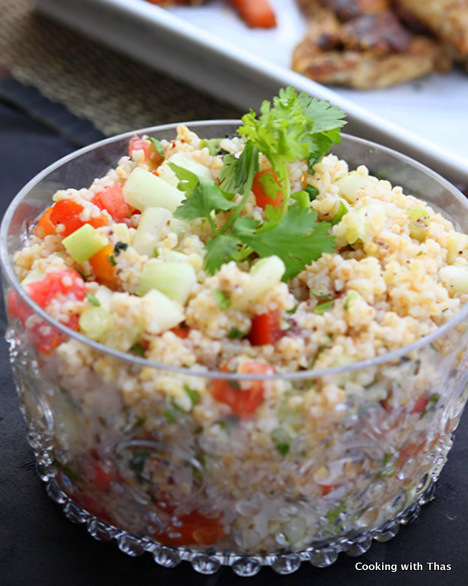 Cracked Wheat Salad Recipe
Ingredients
Cracked wheat- 1 cup
Cucumber, chopped small- 1
Tomatoes, diced small- 2 or 3
Cilantro, chopped- ¼ cup
Mint leaves, chopped- 8 to 10 leaves
Sumac- 2 tsp (you could replace with other seasonings)
Lemon juice- 2 tbsp
Ground pepper- ½ tsp
Salt- to taste
Olive oil- 1 to 2 tbsp
Instructions
In a saucepan, cook 1 cup cracked wheat with 2 cups water till all the water has absorbed and the wheat has cooked well.
Let the cooked cracked wheat cool down.
In a large bowl, combine all the ingredients along with the cooked cracked wheat.
Taste and add more salt or ground pepper according to your needs.
You could add any kind of seasonings or dressings you want.
Notes
Make it into a full meal by adding cooked shredded chicken to the salad, Yum.