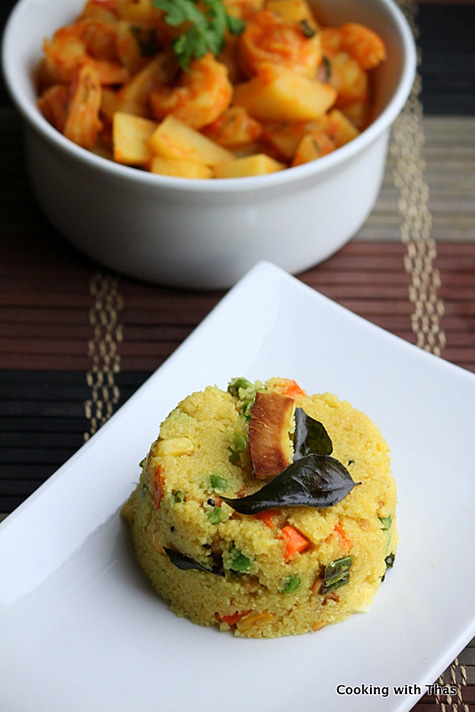 SouthIndian Breakfast dish-Vegetable Upma or Semolina…
One of the common breakfast dishes in South India is Upma, which is made with roasted semolina. Semolina is made by coarsely grinding the endosperm of durum wheat kernel. Hence, it's not gluten free. In India, semolina is widely used for making a lot of savory and sweet dishes. My favorite desserts are semolina halwa and semolina laddu.
When I get a sudden sweet craving, I tend to make the 1 minute microwaved semolina cake in the mug. For that reason, semolina will be always found in my pantry. Last night, while thinking of making some easy dishes for dinner, upma came into picture. Yes, upma can be made pretty easily without much work. There are a different variations of upma: Breakfast upma is mostly made very light without much masalas being added to it and while serving sugar will be sprinkled over it. Since, I made it for dinner, I added mixed veggies and other spices to make it more flavorful and tastier.
Well, Upma can also be made with oats, here is the recipe for making Savory Oats Upma, click here.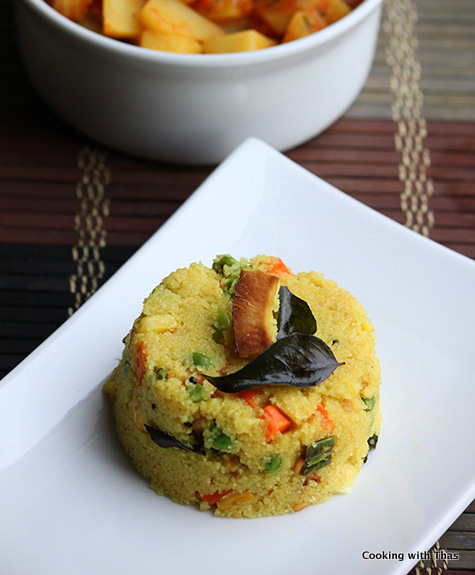 Easy Vegetable Upma Recipe
Ingredients
Oil- 1 tbsp
Mustard seeds- ½ tsp
Chana dal- ½ tbsp
Urad dal- ½ tbsp
Coconut slices- 6 (optional)
Green chilies, chopped- 2
Curry leaves- 1 sprig
Mixed veggies, chopped small- 1 cup
Chili powder- ½ tsp
Coriander powder- 1 tsp
Turmeric powder- ⅛ tsp
Water- 2 cups
Roasted Semolina or Rava or Sooji- 1 cup
Cilantro, chopped- 2 handfuls
Salt- to taste
Instructions
If using unroasted semolina, roast it in a frying pan over medium heat for 5 minutes till aromatic.
Remove the pan from the heat.
Place a wide pan over medium heat, add oil, let oil turn hot.
Add mustard seeds, let splutter.
First add chana dal, saute till light golden color.
Add urad dal and coconut slices if using, saute till everything turns deep golden in color. Do not brown them.
Add green chilies and curry leaves, saute for a few seconds.
Add mixed veggies, season with salt and cook covered till veggies turn slightly tender.
Add chili powder, coriander powder, turmeric powder and salt to taste, combine well.
Add water, let come to a boil.
Add roasted semolina and keep stirring while adding to avoid lumps.
Combine well and keep stirring till the water has fully absorbed.
Add cilantro and stir fry for a minute.
Remove the pan from the heat.
Serve immediately when the upma is still warm.
You could even serve upma with any of your favorite curries or enjoy as it is.
Notes
Semolina:Water ratio has to be 1:2, so if making more increase the ratio accordingly.

Adding coconut slice is just optional.

You could even add cashew nuts or peanuts and stir fry with veggies.