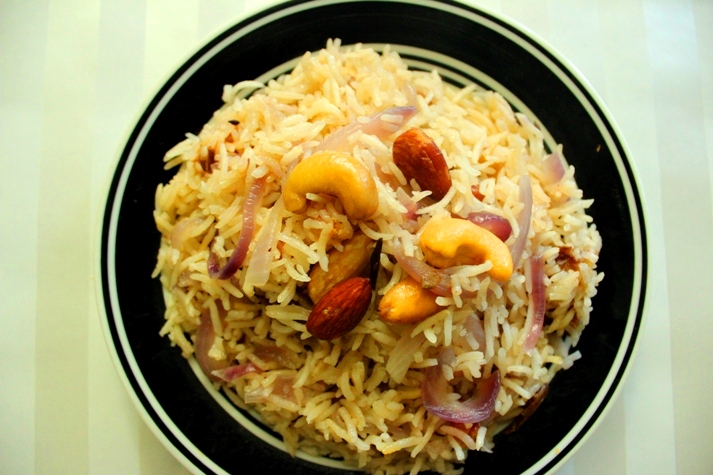 Dried Fruits Rice
Ingredients
Basmati Rice : 2 cups
Ghee : 3 tbsp
Water : 4 cups
Onion : 1 small (cut lengthwise)
Ginger garlic paste : 1 tsp
Salt : to taste
Whole Spices
Cinnamon : 1 inch piece
Anise seed :1
Bay leaves : 2
Cloves : 4
Cardamom : 2
Dried fruits
Cashew : 10 nos
Almond/Pistachios: 10 nos
Raising : ¼ cup
Dates : 6 (cut into small pieces)
Instructions
) Soak 2 cups of rice in 4 cups of water for 20 minutes.
) Heat ghee in a pan, add the ingredients under whole spices and onion.
Sauté until the onions are soft. Add the ginger garlic paste and cook for 1 minute until the raw smell leaves.
) Add the dried fruits one by one. First cashew, pistachios and almonds fry for some time, then raisins and then dates
) Add the drained rice , drained water and salt to taste. Cook until rice is done.