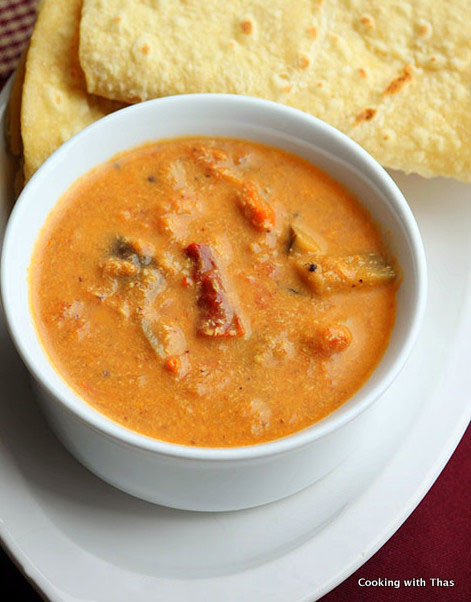 Tomato and eggplant cooked in roasted coconut gravy, delicious vegetarian curry…
Lately, I've been making a lot of vegetarian curries (Yes, using homegrown veggies) and having them with homemade chapati or rotis. I don't seem to get bored of South Indian style vegetarian dishes. But my Man tend to always go behind non-vegetarian dishes and for that reason I've to make non-vegetarian dishes pretty much everyday. On days when I crave for a good vegetarian dish, I just ignore what my Man loves and will make a couple of vegetarian dishes and I will be seen enjoying them to the fullest.
I got excited seeing the first eggplant in my veggie garden, though many flowers bloomed only a couple of them produced the eggplant, I believe it's due to lack of pollination.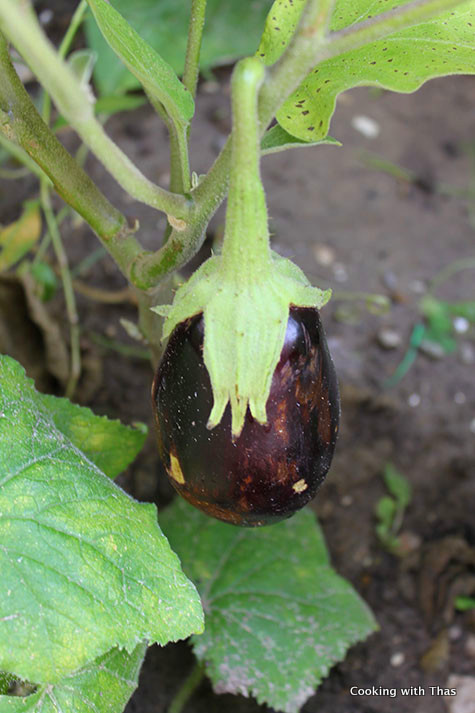 Anyway, I happily picked the eggplant and decided to make a curry with it. Seeing the tomatoes sitting on counter top, I had to add them too. Eggplant and tomatoes were cooked in roasted coconut gravy, I loved this curry so much and served with chapati.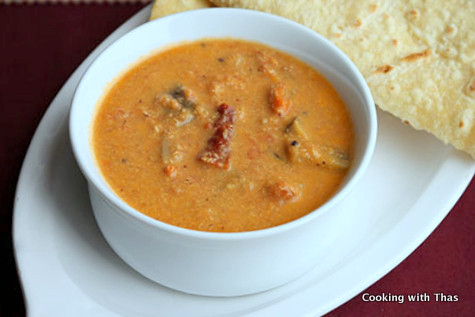 Tomato Eggplant Coconut Curry - Thakkali Thenga Curry
Ingredients
For roasting coconut
Grated coconut or coconut slices- 1 cup
Small pearl onions, chopped- 4
Chili powder- 1 tsp
Turmeric powder- ¼ tsp
Coriander powder- 1½ tsp
Ground cumin- ½ tsp
For making the curry
Oil- 1 tbsp
Mustard seeds- 1 tsp
Whole dry red chili- 2
Curry leaves- 1 sprig
Eggplant, diced- 1 medium sized eggplant
Tomatoes, cut into chunks- 5
Fresh tamarind- 2 inch slice soaked in ¼ cup water
Salt- to taste
Instructions
In a pan, roast the coconut along with small onions till coconut turns golden in color. I didn't brown the coconut. (I used coconut slices, roasted till they turned golden in color)
Add the chili powder, turmeric powder, coriander powder and ground cumin to the roasted coconut, saute for a minute.
Remove the pan from the heat and let cool down.
In a blender, puree the roasted coconut with ½ to ¾ cup water to a coarse paste. Do not puree to a very smooth paste. Keep aside.
Soak tamarind in lukewarm water for 5 minutes, squeeze the tamarind in water with your hand and drain the juice. Discard the skin and seeds.
Place a saucepan over medium heat, add oil, let it turn hot.
Add mustard seeds, let it splutter.
Add dry red chilies and curry leaves, saute for a couple of seconds.
Add the diced eggplant and tomatoes, saute for a minute.
Pour the pureed roasted coconut, add ½ cup water to thin down the gravy.
Pour the strained tamarind juice and add salt to taste.
Cover the pan with its lid and cook over medium heat for a few minutes till the eggplant and tomatoes have cooked. Do not over cook the veggies.
Open the lid, cook over low heat for a few minutes.
Taste, add more salt if needed. If more spice is needed add more chili powder as well.
Remove the pan from the heat and keep it covered for sometime.
Serve with chapati or rice.