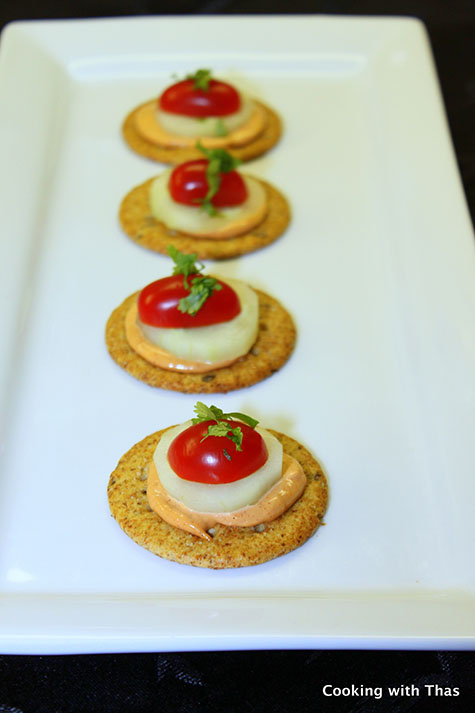 Cracker appetizers are fun, easy to make and very appealing to the taste buds…
I am obsessed with cracker appetizers, that's because I can break all the rules and top them with anything I want and will never go wrong. This is one of the easiest and fun appetizers or finger foods you can serve for any parties. Everyone will line up to taste this and will be enjoyed thoroughly leaving behind an empty platter. That empty platter will cheer you up!
There is zero cooking involved in making this one, it's just topping the crackers with different ingredients. I served this for my holiday party with friends. They all loved it and Yes, the empty platter at the end put a huge smile on my face 🙂 🙂 🙂
Super Easy Cracker Appetizer
Ingredients
Crackers, (use any kind)
Chipotle Mayo or Mayonnaise (store bought)
Cucumber, sliced thin
Cherry tomatoes, halved
Cilantro or Parsley- to garnish on top
Instructions
You can use any kind of crackers. I used one of my recent favorite crackers: thiin and crispy whole grain crackers with flaxseeds and honey.
Chipotle Mayonnaise that was spread on the crackers gave an amazing taste. You can use any flavoured mayonnaise: pesto mayonnaise will be great too.
Spread the crackers with chipotle mayonnaise, top with sliced cucumber, halved cherry tomatoes. Garnish with chopped cilantro on top.
If you want you could even top with grated cheese.
Place on a platter and serve.