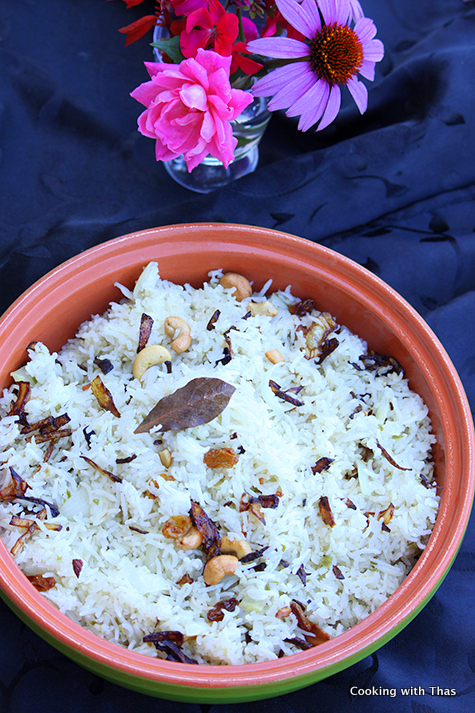 Ghee rice or neychoru is a Kerala specialty dish that has a heavenly harmony of flavors and textures.
Ghee rice is a fragrant and sumptuous dish that embodies the essence of South Indian cuisine.
Jeerakasala or Basmati rice, gently sautéed in rich, golden ghee, absorbs the warm, aromatic spices, creating a dish that is as comforting as it is delicious. Each grain of rice glistens with the nutty goodness of ghee and is infused with the subtle complexities of cloves, cardamom, and cinnamon. The result is a heavenly harmony of flavors and textures, a dish that can stand alone as a star on your plate or complement a wide range of side dishes.
Ghee rice is the embodiment of simplicity and sophistication, a culinary masterpiece that never fails to delight the senses.
To make delicious & aromatic ghee rice, you would need good quality basmati rice, and good quality ghee, and avoid overcooking the rice.
Ghee Rice Cooking Video
Ghee Rice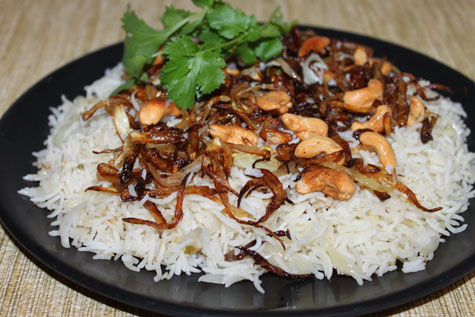 Preparation Pictures
Ghee Rice or Ney Choru
Ingredients
White Basmati Rice- 2 cups (or use Jeerakasala rice)
Water- 3½ cups
Onion, sliced thin lengthwise- 1
Bay leaves, fresh or dry- 2
Ghee- 4 tbsp
Salt- 2 tsp
To Grind
Ginger- 2-inch slice
Garlic- 2 cloves
Green chilies- 2
Whole cardamom- 3
Whole cloves- 2
Cinnamon- 2-inch slice
To Garnish
Onions, sliced thin lengthwise- 2
Oil or ghee- ½ cup
Cashew nuts- 10
Raisins- 1 tbsp
Cilantro, chopped- to garnish
Instructions
For making ghee rice, either basmati rice or jeerakasala rice can be used.
In a large bowl, soak the rice in water for 15 minutes.
After 15 minutes, drain the water & rinse the rice taken in a strainer till the water gets clear. Keep aside the rice.
Coarsely grind the above-mentioned ingredients 'to grind' in a blender and keep aside.
Place a large saucepan over medium heat, add the ghee.
To the ghee, add bay leaves, onions, season with 1 tsp salt, saute until the onions turn translucent.
Add the ground mixture, saute for 3 minutes until the raw smell of the ginger/garlic goes away.
Don't burn the spices.
Add the rice and saute for 3 minutes. Don't let the rice turn brown. It gets aromatic.
Add 3½ cups of water.
Season with 1 tsp salt, combine well.
Cover the saucepan with its lid and cook over medium heat for 10 to 12 minutes until all the water has dried off & the rice has turned fluffy & soft.
Don't overcook the rice.
Take the pan off the heat & keep it covered for a few minutes- the rice will set well.
Fry the onions in oil or ghee until golden brown, transfer to a paper towel.
Roast cashew nuts in the oil or ghee used for frying onion until golden, keep aside in a paper towel.
Roast Raisins in oil or ghee till it bubbles up, keep aside.
Garnish the cooked ghee rice with fried onions, roasted cashew nuts, roasted raisins and cilantro.
Keep it covered for 5 minutes, the aroma will infuse into the rice.
Serve warm with chicken, mutton or beef curries. Enjoy!
Cooking in a rice cooker
After the rice has been roasted in ghee-onion/ginger/garlic/green chilies mixture, transfer the roasted rice to a rice cooker pot.
Rinse the saucepan in which rice was roasted with 1 cup water and add this water to the rice, along with the 2½ cups water.
In the rice cooker, for 2 cups rice, 3½ cups water has to be added.
Cover the rice cooker pot with its lid and turn on the rice cooker, let cook.
After the rice has cooked well, fluff the rice using a fork.
Garnish with fried onions, roasted cashew nuts, raisins and cilantro, enjoy.