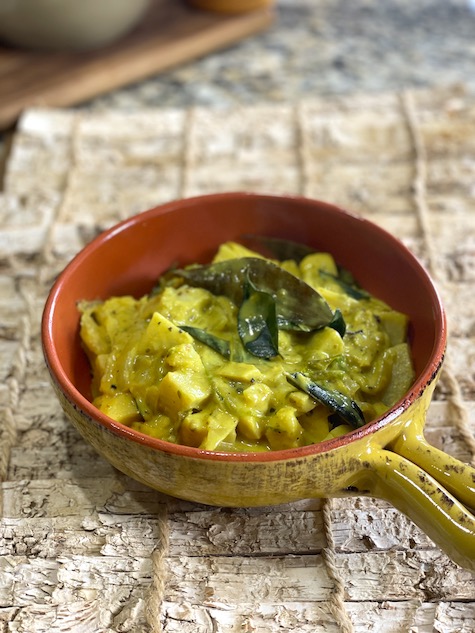 Kerala-style delicious stew with eddoes or taro…
Eddoes are a type of root vegetable that belongs to the taro family. They're similar in appearance to small, round potatoes but have a different taste and texture. Eddoes have a brown, hairy outer skin and a starchy, creamy white interior. These roots are commonly used in various cuisines around the world, especially in Caribbean, African, and Southeast Asian cooking. Eddoes have a nutty, slightly sweet flavor and a texture that becomes soft and creamy when cooked. They're often used in stews, soups, curries, or simply boiled and mashed as a side dish. Due to their starchiness, they're also used as a thickening agent in certain dishes.
Eddoes are nutritious, containing dietary fiber, vitamins (such as vitamin C and some B vitamins), and minerals like potassium and magnesium. They're versatile and can be prepared in numerous ways, contributing their unique taste and texture to a variety of dishes.
I turned eddoes into a delightful stew, cooked with coconut milk. This stew beautifully combines the earthy flavor of eddoes with the creamy richness of coconut milk and simple aromatic spices, creating a comforting and flavorful dish.
Adjust the spice levels according to your preference and enjoy this delicious stew.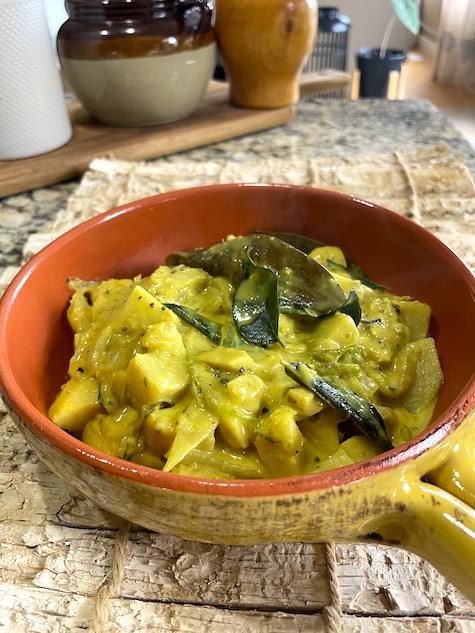 Eddoes - Taro (Chembu) Stew With Coconut Milk, Kerala Style Recipe
Ingredients
To crush
Garlic cloves- 3 cloves
Ginger- 2-inch slice
Green chilies, halved- 2 (based on your spice level)
Whole cardamoms- 2
For cooking
Coconut oil- 1 tbsp
Dried bay leaves- 2
Onion, sliced- 1
Salt- 1½ tsp
Curry leaves- 1 sprig
Eddoes, diced- 3 eddoes or 2 cups
Warm water- ¾ cup
Turmeric powder- ½ tsp
Fennel powder- 1½ tsp
Ground black pepper- ½ to 1 tsp (based on your spice level)
Coconut milk- 1 cup
Instructions
I've taken 3 eddoes, peel off the skin & dice them into chunks.
I crushed the garlic, ginger, green chilies & whole cardamoms using a mortar & pestle.
Place a saucepan over medium heat, add coconut oil.
Add the crushed ginger/garlic/green chilies/whole cardamoms, saute for 2 minutes.
Add the sliced onion & curry leaves, season with ½ tsp salt; cook till onion turns light golden in color.
Add the diced eddoes, combine well.
Add ¾ cup warm water & cook covered till eddoes turn soft, don't overcook them.
Open the lid, add turmeric powder, fennel powder, ground black pepper & salt; combine well.
Cook for 2 minutes.
Green chilies & ground black pepper impart the heat to this dish.
Based on your spice level add green chilies & ground pepper.
Add coconut milk & cook for 3 minutes.
Take the pan off the heat & keep covered for a few minutes.
This stew has less gravy.
Eddoes are bland tasting, however, the gravy tastes absolutely aromatic & delicious.
Enjoy with chapati, appam, palaada, etc.