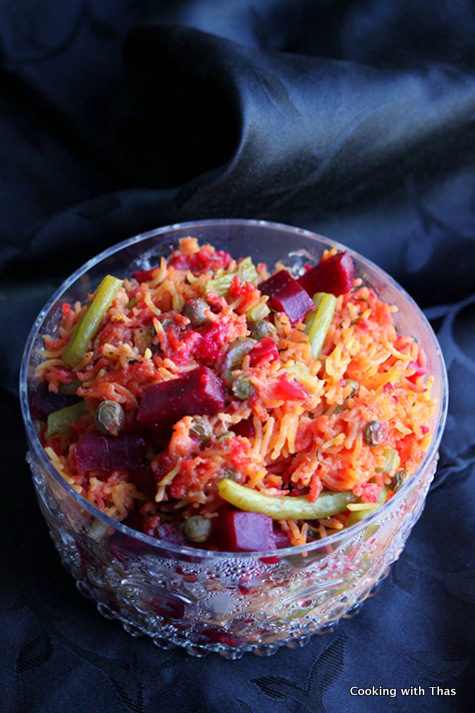 Beetroot rice pilaf, I adore the vibrant red color of this rice and looks so festive…
One of my co-workers brought beetroot rice for a potluck party, the vibrant red color of this rice did attract a lot of people and was enjoyed by everyone. Since then, I'd been thinking of making beetroot rice in my kitchen. I don't have any problem with beetroot, I admire its color, its health benefits and everything about it. However, my Man got huge problems with it, he cannot handle the taste of it. Once, I made beetroot juice for him, one sip and he gave me a frown of disapproval. Well, I enjoyed the juice as well, not to forget the remarkable health benefits of beetroot.
I made this beetroot rice pilaf in a pressure cooker. I even added beans and peas to the beetroot, combined the basmati rice with it, seasoned with some spices and cooked it in the pressure cooker. Anyone would fall for the color of this rice. If you are a fan of beetroot, then this is going to be your favorite pilaf. So, get ready to make this, makes a perfect side dish for any parties.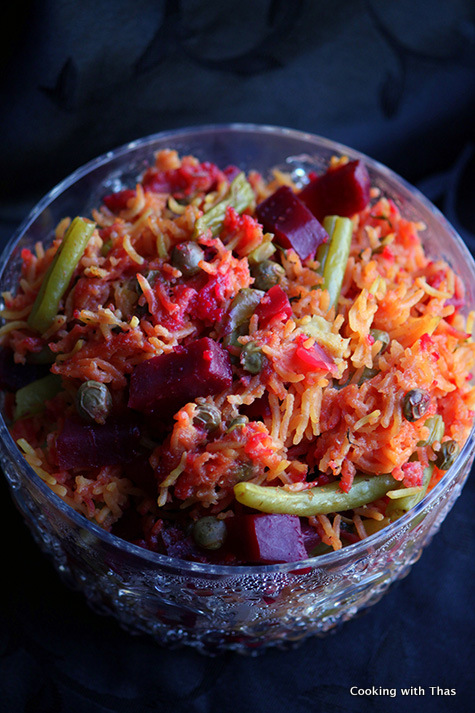 Beetroot Rice Pilaf Recipe- Red Rice Recipe
Ingredients
Ghee or oil- 2 tbsp
Onion, chopped- 1
Beetroot, cubed- 2 medium sized
Green Beans, cut into 1 inch slice- 2 cups
Peas- ½ cup
Garam masala- 1 tsp
Coriander powder- 1 tsp
Chili powder- 1 tsp (add more if you need more spice)
Salt- to taste
Water or chicken stock- 3½ cups
Basmati Rice- 2 cups
Cilantro, chopped- ¼ cup
Instructions
Rinse the basmati rice taken in a sieve under running water. Keep aside.
Place a pressure cooker over medium heat, add ghee or oil.
Add onion, season with salt, saute till translucent.
Add beetroot, green beans and peas, combine well and cook for a couple of minutes.
Add garam masala, chili powder, coriander powder and enough salt to taste. Combine well.
Add water or chicken stock (low-sodium), let the liquid come to a slight boil.
Add basmati rice, combine well.
Add cilantro, combine well.
Cover the pressure cooker with its lid, place the whistle on it and cook till 1 whistle. Do not over cook, the rice will turn mushy.
Remove the pressure cooker from the heat, let the pressure subside, open the lid.
Fluff the rice with a fork.
This can be served as a main dish along with raita, pickle, pappadam etc. Or, serve as a side dish along with your favorite curries.