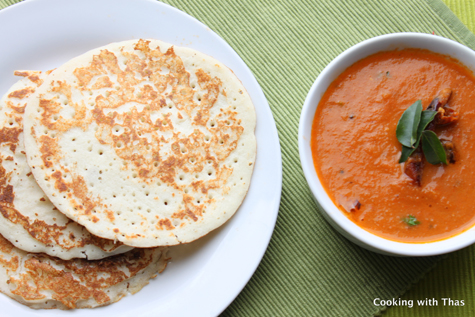 Thattil Kutti dosas are small dosas that resembles pancakes and are served for breakfast in South India…
Dosas can be made into crepes or into pancakes. I've already shared the recipe for making dosa batter and how to make dosas in the form of crepes. In this post, I want to share how to make dosas that resemble pancakes. These small dosas look cute and kids love these. These can be served with sambar or chutneys.
Here is the recipe for making my favorite Tomato Chutney.
Here is the video for making Thattil Kutti or small dosas:
Thattil Kutti Dosa - Rice and Lentil Pancakes - South Indian Pancakes
Ingredients
Raw white Rice, ponni rice or sona massori rice- 2 cups
Black lentil or Urad dal- 1 cup
Chana dal- ¼ cup
Fenugreek seeds- 2 tsp
Water- enough to make the batter
Salt- to taste
Instructions
Making the Dosa batter
Soak rice, lentil, chana dal and fenugreek seeds in water for about 6 hours or overnight.
Drain all the water from the rice and lentils, grind them to a smooth batter by adding just enough water while grinding.
Pour the thick batter into a large bowl.
Keep the batter aside in a warm place and allow it to ferment, which will take 6 hours or keep it overnight.
During summer the batter will ferment faster, so you could keep it on the kitchen counter top.
During winter it takes a long time, so keep the batter inside the oven, this will speed up the fermentation.
Making Small Dosas
After the batter has fermented, take as much as batter as you want in a separate bowl and refrigerate the rest which will last for a couple of weeks.
Add enough water to the thick batter to thin it down.
Add a few pinches of salt to the batter and combine well.
Heat a non-stick pan or cast iron over medium high heat. The pan has to be hot.
Grease the pan with non-stick cooking spray.
Pour a large spoonful of batter onto the pan.
Let the bottom side cook well and turn golden brown in color.
Flip it over and let the other side cook as well.
Transfer the cooked dosa to a plate.
Serve the warm dosas with sambar or chutneys.