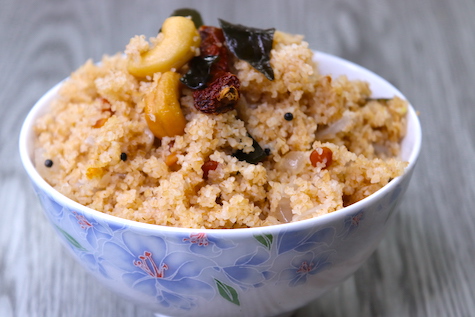 Healthy & quick fix wheat upma…
Samba wheat or broken wheat is made by milling raw whole wheat grains coarsely, as a result, it's not refined or processed. The healthiest version of wheat with amazing health benefits. It's rich in fiber, calcium, iron, proteins & carbohydrates.
Different kinds of dishes can be made out of it. I've made upma, a popular South Indian dish out of it, tasted really good.
It's an easy recipe & can be made served with chutney or other curries for breakfast, lunch or dinner.
Health Benefits of Samba Wheat or Borken Wheat
👉Rich in fiber than
ordinary
wheat as it's not refined
👉High in protein, iron, calcium & good carbohydrates
👉Helps to reduce high blood pressure levels
👉Maintains cholesterol levels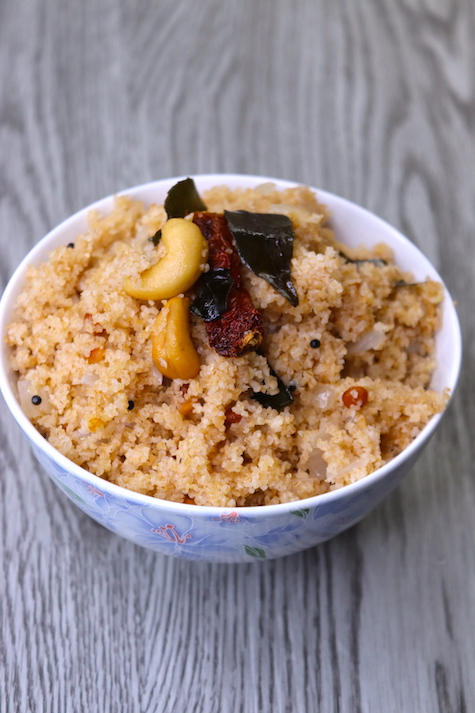 Healthy Samba Wheat Upma | South Indian Recipe
Ingredients
Coconut Oil- 2 tbsp
Mustard seeds- 1 tsp
Chana dal- ½ tbsp
Urad dal- 1 tsp
Dried red chilies- 2
Curry leaves- 1 sprig
Onions, chopped- 1
Salt- 1½ tsp
Green chilies, chopped- 1 or 2
Ginger, minced- ½ tbsp
Water- 2 cups
Samba Wheat rava or Broken wheat- 1½ cups
Cashew nuts or Peanuts- 10
Ghee- 1 tbsp
Instructions
Place a saucepan over medium heat.
Add oil, mustard seeds let splutter.
Add chana dal & urad dal, let turn golden brown.
Add dried red chilies & curry leaves.
Add onions, season with salt.
Add green chilies & ginger.
Cook till onions turn light golden in color.
Add water, let the water boil.
Add wheat rava, keep stirring & combine well.
Cook covered for a few minutes till rava turns soft.
Add cashew nuts & ghee, cook for 2 minutes.
Remove the pan from the heat.
Enjoy with chutney or any curries.