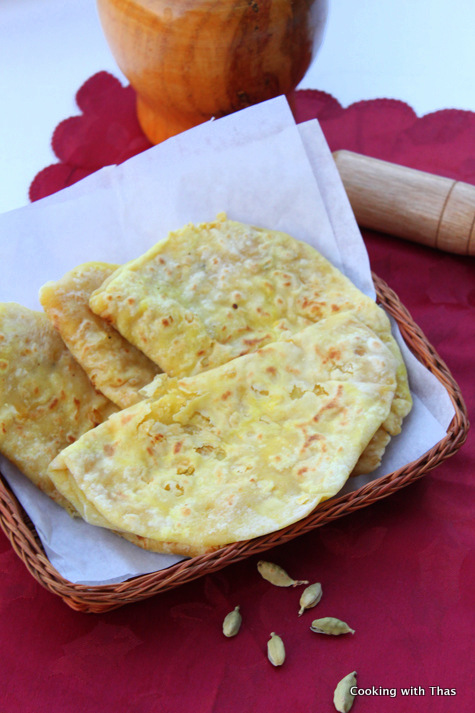 Boli and payasam, a match made in heaven!!!
Wishing all Keralites a Happy and Prosperous Onam…
People in Kerala and all the keralities around the world are in festive mood, it's Onam. Onam is the most popular festival in Kerala which represents the joy of harvest, prosperity and harmony. While thinking about Onam, so many good childhood memories rushes to my mind. Starting with the 10 day holidays; going on a shopping spree; flipping through the TV channels all day long watching all the new movies and celebrity chat shows; Sadya at my best friend's house, going to Kanakakunnu palace to watch the light show, roaming around admiring the beautifully adorned streets, gobbling up street food and enjoying the cultural shows; finally on the 10th day witnessing the grand finale with a procession of floats and art forms along with friends. Onam is celebrated so grandly and lavishly in Trivandrum, the capital of Kerala and that's my hometown. The last time I celebrated Onam in trivandrum was 7 years ago. Onam falls in the month of "Chingam", which is the first month of the Malayalam calender. This month is so special to me as I got married during this month. Well, we are looking forward to celebrating our wedding anniversary next week 🙂
On facebook, all I get to see these days are the Sadya pictures and the celebration pictures uploaded by my friends. One of my favorite meals is Sadya, so obviously seeing those pictures I can't resist drooling over them. I am a bit too lazy to make Sadya this time, as sadya is not a single dish, I've to make some 10 to 15 dishes to call it as Sadya. If I can overcome my laziness, I might make a few dishes over the weekend. I've already posted the recipes for making some of the Sadya dishes.
One of the desserts served with Sadya is sweet Boli along with payasam. Boli is also called as poli or pooran poli in some parts of India. However, in Kerala we call it as Boli. It looks like chapati, but it's sweet and is paper thin. It's so unbelievably thin and soft that it's hard to even hold it as it will fall apart. It's available in almost all stores in Kerala. I cannot even think of the last time I had boli. I guess I had that at one of my friend's wedding. Sadya is also served at Hindu weddings. I cannot deny the fact that one of the main reasons of me attending a Hindu wedding is to have boli along with payasam. I have to agree that the boli and payasam served for weddings tastes way better.
I'd been craving for boli for so long and I tried hard to resist it. I haven't seen boli in any of the Indian stores that I've been to in the US and Canada. So, I've no other way but make it in my kitchen to subside my craving. This evening, after coming back from work, I went straight to the kitchen and started making boli. It's very easy to make it, however it's very hard to make it paper thin. First, a filling is made with chana dal or bengal gram, it's then stuffed into the dough made with all-purpose flour or maida, and is rolled into thin round shape. Well, I tried my best to make it paper thin, when I rolled the dough too thin it started breaking apart. So, I didn't make it too thin. Anyway, this homemade boli tasted very delicious. I am still wondering how the store bought ones are made so paper thin. Looks like I need to go in search of the secret behind that 🙂
If you are someone like me craving for boli or want to make this to serve with Sadya, then go ahead and make this. You wouldn't be disappointed with the taste.
Sweet Boil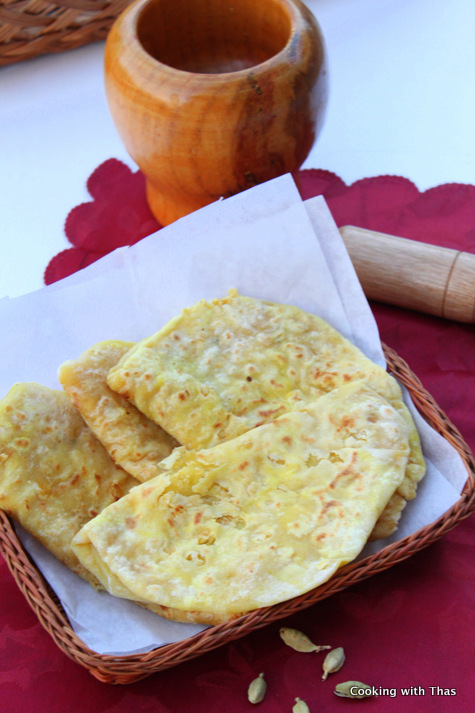 If using 1 cup all purpose flour: Makes 5 to 6 boli
Ingredients
For making Filling
Chana dal or Bengal Gram- 1 cup
Water- 2 cups to cook chana dal
Sugar- 3/4 cup
Ground cardamom- 1 tsp or smash 2 whole cardamoms
Ghee- 1 tbsp
For making dough
All purpose flour or Maida- 1 1/2 cups
Turmeric powder- 1/8 tsp
Salt- 2 pinches
Water- 1/2 cup
Ghee- 1 tbsp
Other Ingredients:
Ghee- to spread over the boli
Preparation
1 1/2 cups of all-purpose flour makes 5 to 6 boli, you'll have some leftover filling as well. So if you want to use up all the filling, add 2 cups of flour and water accordingly to make a soft dough.
First make the dough: In a bowl combine the flour, turmeric powder, salt, and water, knead well & make a soft dough.
Knead the dough well and pour ghee over the dough, combine well and let stand for 30 minutes.
Making the filling:
Rinse the chana dal taken in a strainer under running water.
Add that to a pressure cooker, add 2 cups water and cook over medium heat till 3 whistles. Don't cook till it's mashed up.
If you don't have a pressure cooker, cook in a saucepan until it's almost cooked. Don't over cook it.
After the pressure in the cooker has subsided, open the lid and drain the water from the cooked chana dal.
Pat dry the cooked chana dal with a kitchen paper towel to remove excess water from it.
Using a wooden spoon, mash the cooked chana dal into a smooth mixture without any lumps.
Heat a non-stick saucepan over medium heat, add the mashed chana dal to it.
Add sugar, combine well till sugar dissolves with the dal.
Add ground cardamom or smash 2 whole cardamoms in a mortar and pestle and add that to the dal.
Add ghee to it and cook till the mixture gets thick and is almost dry.
If the mixture is watery, cook for some more time till it thickens.
Precisely, you should be able to make balls out of the cooked dal-sugar mixture. Keep aside and let cool down completely.
Make medium-sized balls out of the dal filling and keep aside.
Now, make small balls out of the prepared dough.
Place the dough ball on parchment paper, this is to prevent sticking while rolling.
Roll the dough to a round shape.
Place the dal filling ball on the middle of the rolled dough.
Wrap the filling with the dough and seal the ends.
Cover the dough with another parchment paper & roll into a thin round shape.
Instead of rolling the dough on a board, roll in between the parchment papers, this will prevent sticking & the dough can be rolled thin.

Place a wide frying pan over medium heat, let turn hot.
Add 1 to 2 tsp of ghee to the pan, place the rolled dough over it and let the bottom side turn golden in color.
Spread some more ghee over it and flip it over.
Cook till both the sides turn golden in color and brown spots start to form.
Remove from the pan and let cool down.
Serve boli along with Matta Rice Paal Paysam or Semiya or Vermicelli Payasam, a match made in heaven! Or have it just as it is, tastes delish!!!