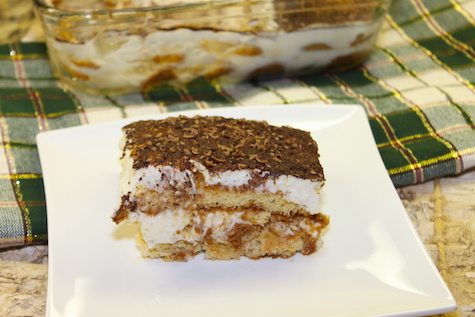 Tiramisu means Pick me up in Italian, the best Italian dessert and one of my favorites…
If I find this dessert on the menu of any restaurant that I dine in, I order that without any second thoughts. That explains my intense love for this particular dessert. It's a melt into the mouth dessert and every bite is truly heavenly.
I've already posted the recipe for making tiramisu cake and eggless tiramisu, do check it out:
For making Eggless Tiramisu, recipe click here 
Tiramisu cake, recipe click here
In this recipe, I've added eggs and skipped adding the alcohol. The authentic tiramisu recipe calls for  Marsala wine. Even without the alcohol, tiramisu tastes delicious. This recipe is a winner and tastes exactly like the restaurant-style.
This recipe is dedicated to all the Tiramisu lovers out there 🙂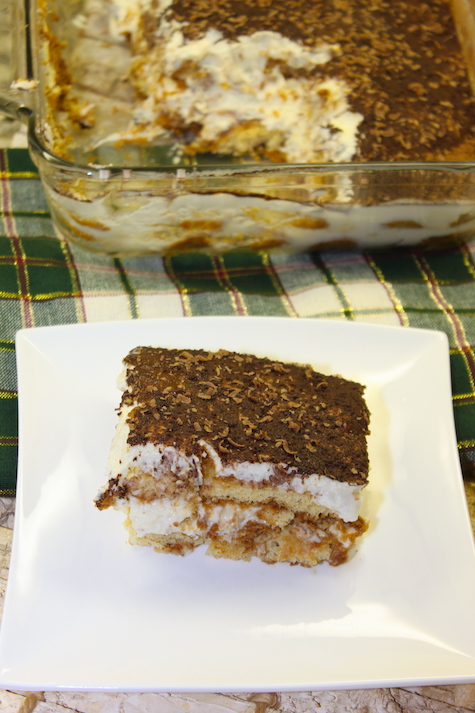 Video for making Tiramisu
The Best Tasting Homemade Tiramisu- Italian Dessert (Non-Alcoholic)
Ingredients
Ladyfinger cookies- 20
Espresso- 3 tbsp combined with ½ cup lukewarm water
Mascarpone cheese- 8 ounce or 226g (must add cheese)
Eggs- 2 ( yolks & whites separated)
Whipped heavy cream- 1 cup (store bought)
White sugar- 4 tbsp
Pure Vanilla extract- ½ tsp
Unsweetened cocoa powder
Grated chocolate
Instructions
This recipe is for making tiramisu in a 8x8 inch casserole. Serves 8 people
Ladyfinger cookies are available at most grocery stores or gourmert stores. Ladyfinger cookies have to be used for making this dessert.
I used espresso powder (Nescafe brand), espresso gives a nice aroma and flavor to this dessert.
Combine 3 tbsp espresso with ½ cup lukewarm water, keep aside.
Separate egg yolks and whites from 2 eggs. Make sure there is no trace of yolks in the egg whites.
We have to cook the egg yolks using double boiling method: Add the egg yolks into a heat proof bowl. Using a whisk, whisk the egg yolks. Add 2 tbsp sugar and combine well.
Add 1 cup of water to a saucepan and place over medium heat, let the water boil.
Place the bowl with egg yolks on the saucepan (make sure the bowl doesn't touch the boiling water).
Using the whisk, keep whisking the egg yolk. Do not stop whisking.
The color of the eggyolks will turn pale yellow, whisk for exactly 5 minutes. This will cook the egg yolks.
Keep aside the cooked egg yolks.
Into a stand mixer bowl with whisk attachment or use an electric hand mixer: add the egg whites from 2 eggs. Whisk at high speed for 3 minutes. Add 2 tbsp sugar and whisk for 4 to 5 minutes till soft peaks are formed.
When you raise the whisk attachment, the egg white peaks should stay firm without falling down.
Keep aside the whisked egg white.
Rinse the stand mixer bowl, use paddle attachment or use electric hand mixer: beat the mascarpone cheese at medium high speed for 3 minutes till smooth. Using a spatula scrape down the sides and beat again for 2 minutes.
To the creamed cheese, add the cooked egg yolks, beat for 2 minutes till well incorporated.
Add whipped cream (I used store bought whipped cream) and vanilla extract, using a spatula combine well till well incorporated.
Add the whipped egg whites, using a spatula combine well till well incorporated.
The cream will turn really silky and soft, that's the kind of texture we want.
Whipped egg whites will make the cream airy and fluffy.
Have a 8x8 inch glass casserole or deep dish ready.
Dip each ladyfinger cookie into espresso mixture, just dip the cookie and take it out.
Layer the dipped ladyfinger cookies in the 8x8 inch casserole as the first layer.
Spread half of the prepared cream filling over the cookies. Use a spatula and smoothen.
Layer another layer of ladyfinger cookies dipped in espresso over the cream filling.
On the top, spread the remaining cream filling and smoothen.
Dust generously with cocoa powder over the cream filling.
Spread grated chocolate over the cocoa powder layer.
Cover the dish with plastic wrap.
Keep in the refrigerator for atleast 5 hours. Overnight the better as this dessert tastes better when chilled well.
Cut into squares and indulge in this melt into the mouth heavenly dessert.
Leftovers can be refrigerted for 2 days or kept frozen for 2 weeks.
Notes
Double up the recipe for making tiramisu in a 9x13 inch casserole, serves 16 people.
Replacement for Ladyfinger cookies: Sponge cake or Pound cake.