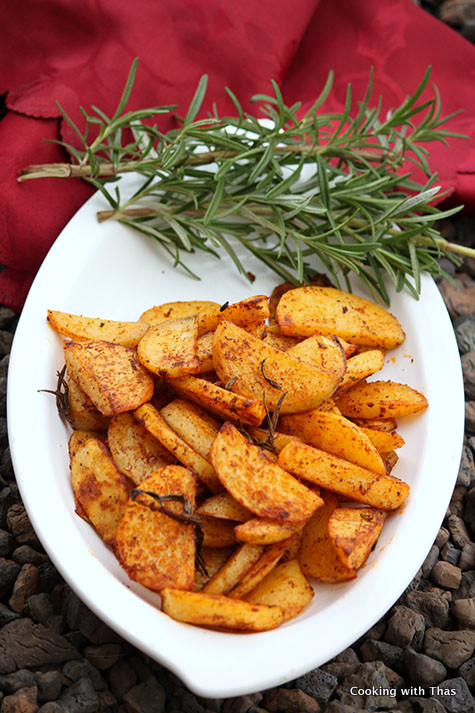 Aromatic oven roasted potatoes…
One of my favorite root vegetables is potato and on days when I don't cook any meat I make sure to prepare a potato dish. Btw, who doesn't like potatoes??? Can we possibly say No to French fries and Potato chips??? There are a million ways of cooking potatoes, such a friendly and versatile vegetable: bake 'em, stir fry 'em, roast 'em, fry 'em, add 'em to any curries/stews/soups etc etc…
One of my favorite healthy ways of making potatoes is by roasting them in the oven. And I love to make it aromatic, for that reason I add fresh rosemary and roast them. The mesmerizing aroma from the rosemary along with the other seasonings make the roasted potatoes taste absolutely delish. This makes an excellent side dish for any meals.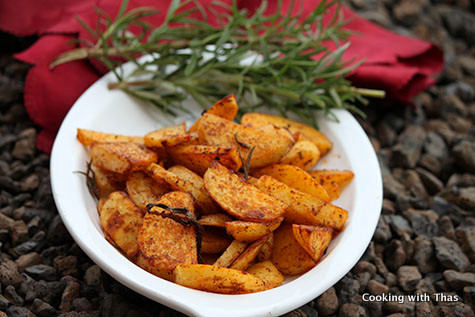 Roasted Rosemary Potatoes - Oven Roasted Potatoes
Ingredients
Potatoes, cut into thick wedges- 7, medium sized potatoes
Fresh rosemary- 2 sprigs, coarsely chopped
Paprika- 1 tsp
Ground pepper- ¼ to ½ tsp
Salt- to taste
Olive oil- 3 tbsp
Instructions
Preheat oven to 400 F.
Line a baking sheet with aluminum foil, grease with non-stick cooking spray.
In a bowl, combine cut potatoes with rosemary, paprika, ground pepper and salt.
Spread the potatoes on the baking sheet.
Drizzle olive oil over the potatoes and give them a stir.
Bake for 40 to 45 minutes till the potatoes have cooked well and starts to turn golden brown in color.
Half way through, you could toss the potatoes and flip them over.
Remove the baking sheet from the oven, let cool down a bit.
If needed you could sprinkle more ground pepper and salt.
Serve as a side dish.