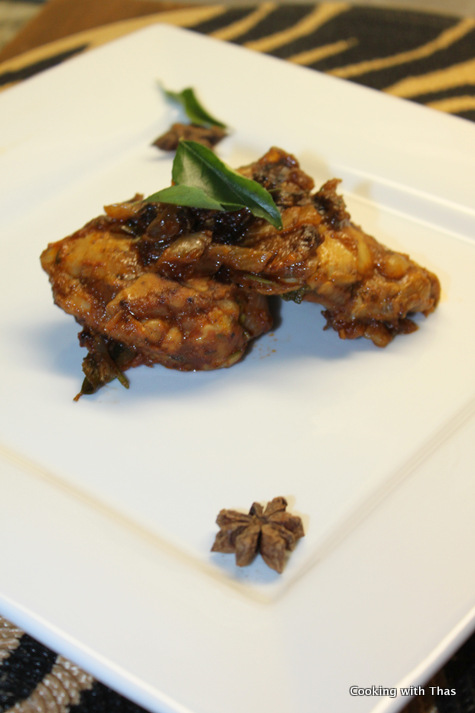 Star anise enhances the taste and aroma of this chicken dish…
"The good you do today may be forgotten tomorrow. Do good anyway. Give the world the best you have and it may never be enough. Give your best anyway. For you see, in the end, it is between you and God. It was never between you and them anyway."- Mother Teresa.
I wouldn't complain that this world is a crazy place to live in as I know so many amazing human beings who contribute in all ways to make this world a beautiful place. The revolutionary Malala is one of the biggest examples that's in front of us. She has been nominated for this year's Nobel prize,; it doesn't matter if she wins or not as she's already inspired and motivated most of the men and women. A true hero in all sense. I watched most of her talks, every time I listen to her talk I get goosebumps and some kind of positive energy builds up in me that motivates me to do something incredible. As she says you don't have to be someone to make the change, anyone can do it.  All you need is the determination and the heart to believe in yourself and others.
Obviously, the first step towards change is by changing yourself, by being a better human being, by respecting others, having a mind to help others, and by always keeping a smile on your face. If you succeed in doing so you have certainly brought some changes in yourself which will be passed to others and so on…
Alright, back to this recipe. I tried this chicken roast last night, I used chicken thighs instead of chicken breast and that kind of enhanced the taste of this dish. We all know that chicken thighs turn tender and juicy when cooked. I sautéed star anise in oil and the aroma of it started spreading, so mesmerizing and refreshing. When the chicken was cooked along with star anise and other spices, a regular chicken dish was turned into a deliciously delicious dish.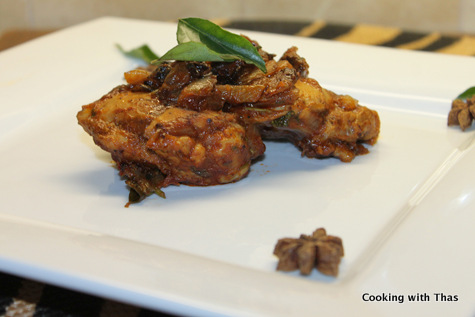 Preparation Picture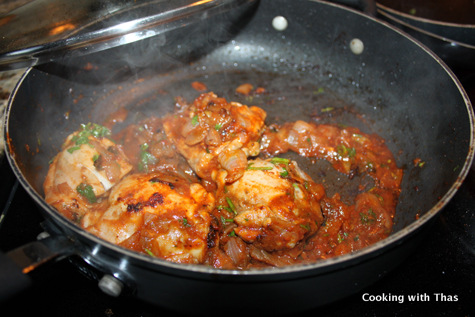 Star Anise Chicken -Aromatic Chicken Roast
Ingredients
For marinating Chicken
Chicken thighs- 6 (bone in)
Ginger-garlic paste- ½ tbsp
Ground Cumin- ½ tsp
Coriander powder- 1½ tsp
Garam masala- ½ tsp
Chili powder- 1 tsp
Salt- to taste
While cooking
Oil- 2 tbsp
Whole cardamom-2
Whole cloves-2
Star anise- 4
Curry leaves- 1 sprig
Onion, chopped- 2, large
Tomato paste- 3 tbsp
Ground black pepper- ¼ tsp (optional)
Instructions
In a bowl marinate the chicken with the above mentioned "for marinating chicken" ingredients. Keep aside for 10 minutes.
Place a large non-stick pan over medium heat, add oil.
Add whole cardamom, cloves and star anise, saute for a few seconds till it gets aromatic.
Add the marinated chicken to the pan.
Add onions and curry leaves. Cook covered till chicken has cooked well.
Add tomato paste, combine well to the chicken.
Add salt for taste.
Cook till the onions turn brown, if it gets dry sprinkle some water and cook.
Cook on hight heat, let the chicken pieces brown a bit. Sprinkle ground pepper and combine well, cook for a minute.
Remove from the heat and serve. This is a dry dish, more like a roast.