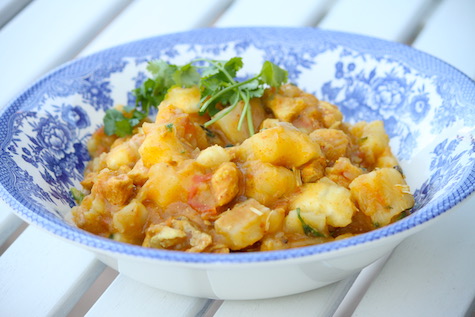 Chicken curry and Kappa made in the Instant Pot…
One of the Kerala specialty dishes is chicken and Kappa or Tapioca cooked together. This is one of my favorite one-pot dishes. I make the chicken curry in the Instant Pot, made effortlessly and then combine cooked tapioca or yuca root along with it. It's that simple and tastes delicious.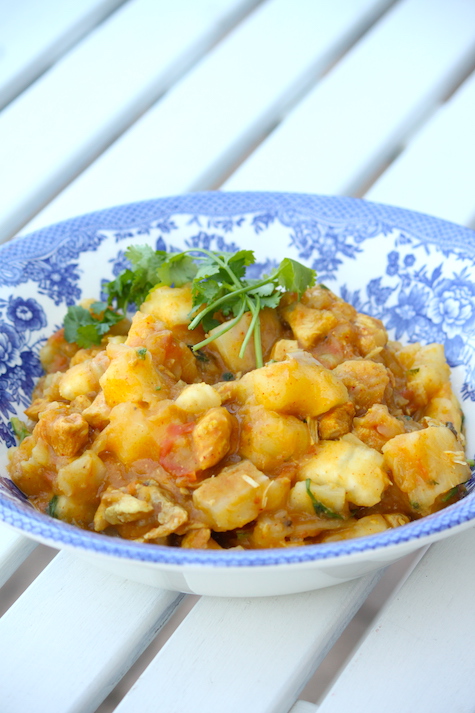 Cooking Video
Instant Pot Chicken Kappa- Chicken and Tapioca (Yuca Root)
Ingredients
Tapioca or Yuca or Kappa- 3
For cooking Chicken Curry
Coconut or Veg Oil- 1 tbsp
Dried Bay leaves- 2
Onion, chopped- 1
Salt- ½ tsp
Garlic, grated- 1 large clove
Ginger, grated- 1 inch slice
Tomatoes, chopped- 2
Curry leaves- 1 Sprig
Chicken breasts, diced- 2 breasts (or use thighs)
Chili powder- 1 tsp
Turmeric powder- ¼ tsp
Coriander powder- 2 tsp
Garam Masala- ½ tsp
Salt- 1 tsp
Cilantro, chopped- ¼ cup
Instructions
Peel off the skin from 3 tapiocas and cut into cubes.
Fill ¾th of a saucepan with water and place over medium heat. Season with ½ tsp salt.
Add the cubed tapioca and cook for 15 to 20 minutes till fork tender.
Drain the water and keep aside.
Turn on the Instant Pot.
Turn on Saute Mode, Medium Temperature.
Let Hot sigh display.
Add oil and dried bay leaves. Saute for a few seconds.
Add onion, season with ½ tsp salt.
Add grated garlic and ginger, add curry leaves.
Saute till onions turn light golden in color.
Add tomatoes, cook for 2 minutes.
Add chicken, combine well.
Add chili powder, turmeric powder, coriander powder, garam masala and salt, combine well.
Close the pot with the lid.
Cancel Saute mode and turn on pressure cook mode.
Set time to 10 minutes at high pressure.
After 10 minutes, do a quick pressure release.
Open the lid. Combine the curry well.
Add the cooked tapioca, combine well.
Taste and add salt as required.
Garnish with chopped cilantro.
Serve into a bowl and enjoy.