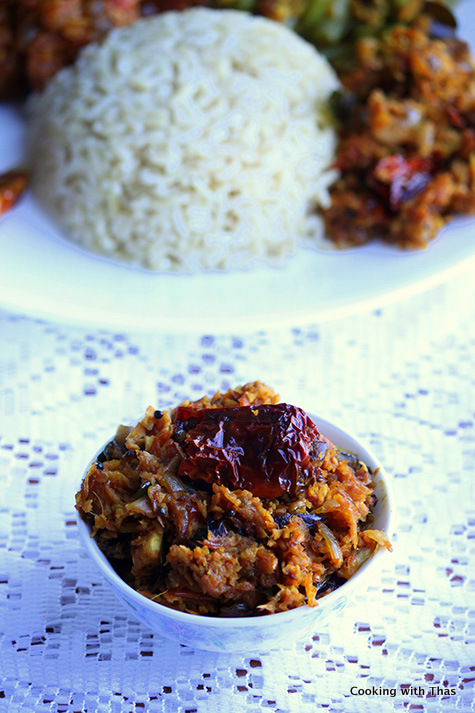 Dried shrimp masala, Kerala style…
One of the delicacies made with dried shrimp in Kerala is dried shrimp chammanthi or dried shrimp ground with freshly grated coconut. It's served along with rice or rice porridge. There are also other dishes made with dried shrimp like dried shrimp masala, dried shrimp curry, dried shrimp combined with veggies, etc.
On a warm Saturday, I tried dried shrimp masala. I picked a warm day, while cooking this I wanted to open the windows so that the smell of the dried shrimp won't linger in my kitchen. The taste of this dish is so incredible and I served it for lunch with rice, coconut yogurt curry and beans thoran.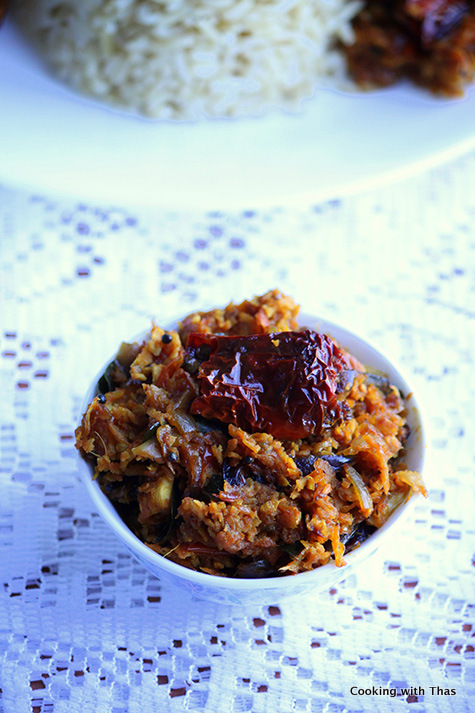 Dried Shrimp Masala
Ingredients
Oil- 1 tbsp
Mustard seeds- 1 tsp
Whole Red dry chilies- 2
Curry leaves-1 sprig
Small onions, sliced- 7
Ginger, minced- 1 inch slice
Garlic minced- 2 cloves
Green chilies, chopped- 1
Dried shrimp- 1½ cups
Chili powder- 1 tsp
Turmeric powder- ⅛ tsp
Water- ¼ cup
Grated coconut- ½ cup
Salt- ½ to ¾ tsp
Instructions
Place a saucepan over medium heat, add oil and let oil turn hot.
Add mustard seeds, let splutter.
Add whole dried red chilies and curry leaves, saute for a few seconds.
Add small onions, season with salt and saute for a minute.
Add ginger, garlic and green chilies, saute till onions turn golden brown.
Add dried shrimp, combine well.
Add chili powder, turmeric powder and salt, combine well and cook for a minute.
Add water, cook for 2 minutes.
Add grated coconut and cook for a few minutes till water has dried off.
Dry roast for 3 minutes till coconut and dried shrimp turns golden brown.
Dried shrimp is salty, so add salt based on your needs.
Serve along with rice as a side dish. Tastes delish when combined with rice, morucurry (yogurt curry) and dried shrimp masala. Yummy!