Delicious okra curry cooked in the Instant Pot…
Easy to make vegetarian korma with okra or lady's finger. This is one of my favorite curries with okra, okra cooked in coconut milk. Can be served with rice, chapati, roti, etc.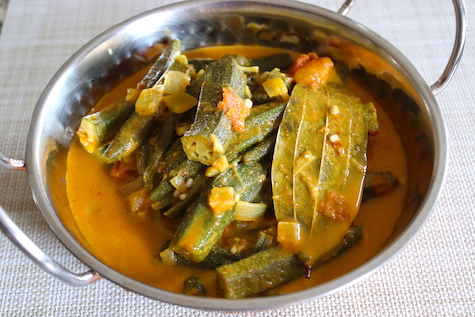 Delicious Instant Pot Okra- Lady's Finger Korma | Vegetarian Curry Recipe
Ingredients
Coconut oil- 1 tbsp
Dried bay leaf- 1
Onion, chopped- 1
Ginger- garlic paste- ½ tbsp
Tomato, chopped- 1
Okra, lady's finger- 20 (whole or cut into chunks)
Water- ¼ cup
Kashmiri chili powder- 1 tsp
Turmeric powder- ¼ tsp
Coriander powder- 1 tsp
Cumin powder- 1 tsp
Garam masala- ½ tsp
Salt- 1 tsp
Coconut milk, thin- 1½ cups
Instructions
I've used whole okra for making this curry, okra can be cut into big chunks as well.
Turn on the Instant Pot. Select saute setting, temperature should be medium or normal.
Add oil, dried bay leaf; saute for a minute.
Add onion, ginger-garlic paste & season with ½ tsp salt. Saute for 2 minutes.
Add tomato, close the pot with a glass kid & cook for a few minutes.
Add okra, combine well.
Add ¼ cup water, combine well. Close the pot with the glass lid & cook till okra turns soft.
Do not overcook the okra, will turn mushy.
Add all the spices- chili, turmeric, coriander, cumin, garam masala & ½ tsp salt.
Combine well.
Add thin coconut milk 1½ cups, combine well.
If the coconut milk is thick, add some water to thin it down.
Cook for 2 minutes till coconut milk comes to a slight boil.
Don't have to cook longer after adding coconut milk.
Take the stainless steel pot out of the main pot & keep it covered.
Serve in a bowl & enjoy with rice, chapati or roti.