Delicious & filling Spinach Potato Paratha…
Add the mashed potatoes & spinach to the flour & make it into a soft dough. Flatten the dough balls & cook the parathas drizzled with ghee. Can be served with any kind of curries.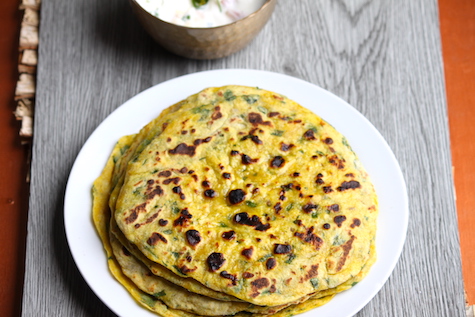 Cooking Video
Spinach Potato Paratha- Aloo Palak Paratha- Indian Paratha Recipe
Ingredients
Mashed potatoes- 2
All-purpose flour or whole wheat flour- 2 cups
Cumin seeds- 1 tsp
Turmeric powder- ¼ tsp
Chili powder- ½ tsp
Salt- ¾ tsp
Spinach, chopped- 1 cup
Water- 1 cup
Instructions
Combine all the ingredients, knead into a soft dough.
Add water little by little till a soft dough is formed.
Knead the dough for 10 minutes.
Add 1 tsp oil over the kneaded dough & combine well.
Make into medium-sized balls- 10 balls.
Using a rolling pin, roll the dough balls into a round shape, dust with flour.
Heat a pan or tawa over medium heat.
Grease the pan with ghee.
Place the rolled dough.
Let the bottom side warm up- for 30 seconds.
Flip over, cook for a few minutes till light golden brown spots form on the bottom side.
Using a spatula press the edges so that the edges will cook as well.
Flip over and cook the other side as well.
Let brown spots form on both sides.
Spread ½ tsp ghee over the cooked paratha.
Transfer to a plate & cook the remaining rolled dough.
To keep the parathas warm, cover the plate with aluminum foil.
Can be served with any kind of curries- veg or non-veg.