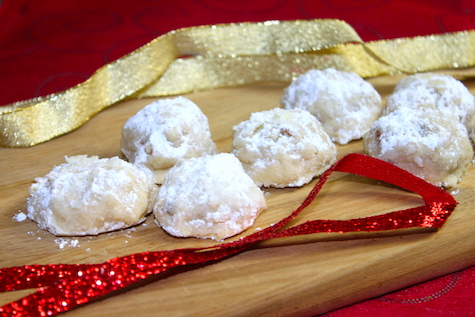 Melt in your mouth snowball cookies…
These are super soft and taste heavenly. Made with very simple ingredients. I've added pecans, any nuts of your choice or mixed nuts can be added.
Baking Video
Melt in your Mouth Snowball Cookies- Easy Recipe- With Pecans- Baking
Ingredients
Butter softened & unsalted- ½ cup or 1 stick
Powdered sugar- ¼ cup
Vanilla extract- ½ tsp
All-purpose flour- 1 cup
Salt- ⅛ tsp
Pecans, chopped- ½ cup (or add almonds or cashew nuts or walnuts)
Powdered sugar- ½ cup, for rolling the cookies
Instructions
This recipe makes 12 snowball cookies.
For making 24 cookies- double the recipe.
Preheat the oven to 350 F or 175 C.
Using an electric hand mixer, beat the butter taken in a bowl till creamy.
Add powdered sugar, beat well.
Add vanilla extract, beat well.
Add all-purpose flour and salt. Beat at low speed and combine well.
Add chopped pecans, combine till well incorporated.
Using a silicone spatula, combine the cookie dough.
Make small balls out of the cookie dough.
Place the cookie balls on a baking sheet lined with parchment paper.
Place the baking sheet on the middle rack in the preheated oven.
Bake for 15 minutes.
After 15 minutes, take the baking sheet out of the oven.
Let cool down for 2 minutes.
Take ½ cup powdered sugar in a wide bowl.
Dip the cookies in the powdered sugar and coat well.
Place the cookies on the baking sheet.
Let cool down completely.
Again, dip the cookies in the powdered sugar and coat well.
These cookies are super soft and will melt in your mouth. It's YUM!