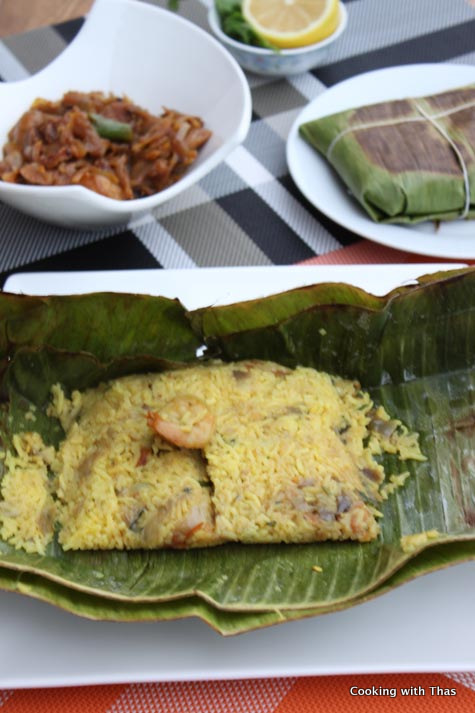 Any food wrapped up in banana leaf tastes divine, this dish is no exception…
Since last Monday I'd been eagerly looking forward to the weekend just to make this dish and to have a taste of it. As soon as Saturday dawned bright and sunny, I started my preparation to make this special dish. I went for a grocery shopping first thing in the morning and bought the most important thing to make this dish: banana leaves or plantain leaves. One of the trees I miss a lot here is plantain tree, how I adore this tree. This is seen almost everywhere in my hometown, most of the house have at least one plantain tree in their back yard. Almost every part of plantain tree is edible and is considered to be healthy. Well, the leaves are not edible, however it's used widely for wrapping food in it and are then steamed or boiled. The plantain leaf imparts a very distinct aroma and taste to the food, even the simplest and the humblest food is instantly transformed into a divine delicacy.
While browsing through youtube I came across the cooking video of Kannur style coconut rice with shrimp, the title aroused my curiosity and wanted to see what makes it different from the coconut rice that's made by me or in my family. I didn't find any similarity between the two styles of coconut rice, it was entirely different. They use basmati rice to make the coconut rice and the rice is combined with shrimp masala or mussel masala. The most amazing part and the part I loved the most was the wrapping up of shrimp coconut rice in a banana leaf and slow cooking it on a pan. Had it not been for this step I wouldn't have made this dish as I cannot resist anything that's wrapped up in a banana leaf. I'd posted many recipes using banana leaf, check it out: Fish in banana leaf, Chippi appam or mussel in banana leaf, jack fruit elayappam etc.
Here is how I make coconut rice and one of my favorite ways of making rice.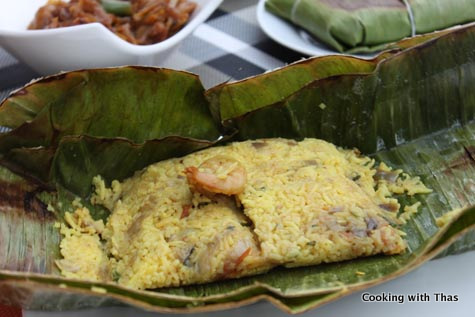 Shrimp Coconut Rice Cooking Video
Shrimp Coconut Rice wrapped in Banana Leaf
Ingredients
For making Coconut Rice
Ghee- 2 tbsp
Whole Cardamom- 3
Whole Cinnamon- 2 inch slice
Cloves- 2
Red Onions, sliced- 1, medium size (or use yellow onions)
Turmeric powder- ½ tsp
Fennel seeds- 1 tsp
Coconut Milk- 2 cups
Warm water- 3 cups
Basmati rice- 2½ cups
Salt- ¾ tsp
For making Shrimp Masala
Shrimp, deveined and shelled- 30, large sized
Oil- 2 tbsp (use coconut oil for better flavor)
Red Onions, sliced- 3
Garlic, chopped- 3 cloves
Ginger, chopped- 2 inch slice
Green chili, chopped- 3
Tomato, chopped-2
Turmeric powder- ¼ tsp
Chili powder- 1 tsp
Coriander powder- 2 tsp
Garam Masala- ½ tsp
Lemon juice- 1 tbsp
Curry leaves- 1 sprig
Cilantro, chopped- 2 handful
Salt- to taste
Other ingredients:
Banana leaf or plantain leaves
Instructions
Making Coconut Rice
Place a non-stick cooking pan over medium heat, add ghee.
Add whole Cardamom, whole Cinnamon, cloves, saute for a few seconds till it turns aromatic.
Add onions and salt, saute till it turns golden brown in color.
Add the coconut milk and warm water, combine well.
Add rice, turmeric powder and fennel seeds, combine well.
Cook covered over medium heat for 15 minutes or till the rice has almost cooked and water has dried up.
If the water dries up and the rice hasn't cooked through, add some more water and cook uncovered for a few minutes. Don't over cook the rice, it should be slightly crispy and fluffy.
Remove the pan from the heat and keep it covered.
Making Shrimp Masala
Place a large non-stick pan over medium heat, add oil.
Add onions, salt and curry leaves, saute till the onions turn golden in color.
Using a mortar and pestle or in a coffee grinder, slightly crush the chopped ginger and garlic together.
Add the crushed ginger-garlic to the onions.
Add green chilies and cook for 5 minutes.
Add tomatoes and cook till mashed up.
Add turmeric powder, chili powder, coriander powder, garam masala and more salt, combine well.
Add lemon juice, combine well.
Add the shrimp and cook covered till shrimp has cooked well.
Once the shrimp has cooked well, uncover the pot and cook till the mixture turns dry without any water.
Add the chopped cilantro, combine well and cook for a minute.
Remove the pan from the heat and keep the shrimp masala covered.
Combine the shrimp masala and coconut rice together. Keep aside.
How to wrap up the shrimp coconut rice in a banana leaf
Gently wash the banana leaf under running water, pat dry with paper towel.
Turn on the stove to low heat and show the leaf over the flame, this is to wilt the leaf. Place the leaf over the flame only for a few seconds.
Place the wilted banana leaf over a clean cutting board, add 2 to 3 large spoons of prepared shrimp coconut rice onto the middle of the leaf.
Gently wrap the leaf, make sure there is no slit in the leaf.
You could tie the wrapped up banana leaf with kitchen twine.
You could either cook the shrimp coconut rice wrapped up in banana leaf placed on a pan over stove top or you could bake it in the oven
Traditional Cooking: Over stove top
Place a large pan over medium low heat.
Place the wrapped up banana leaf onto the pan.
Cover with a lid and cook both sides for about 10 minute, flip it over twice or thrice.
Remove the wrapped up shrimp coconut rice from the pan, let stand for 5 minutes.
Serve warm with pickle, dates pickle, pappadam etc. I served this with figs chutney.
How to Bake
Preheat oven to 325 F.
Place the wrapped up banana leaf on a baking sheet and bake it for 10 minutes.
Notes
Adjust salt and chili powder according to your needs.
If you don't have banana leaf, just ignore the wrapping part and enjoy the shrimp coconut rice.
Step by Step Preparation pictures