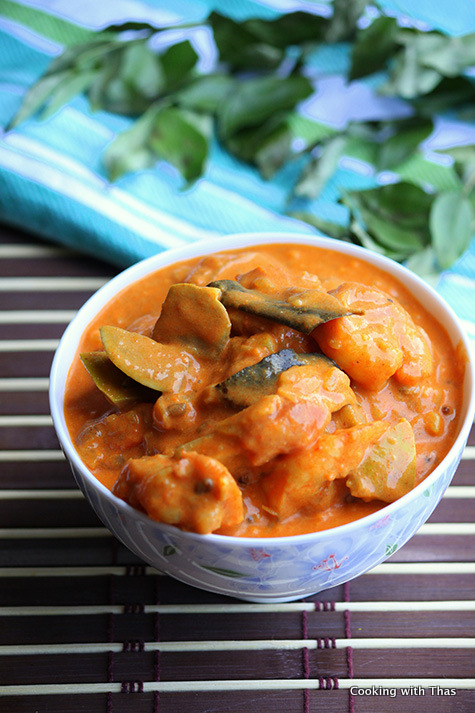 Shrimp and mango in coconut gravy: Kerala style recipe and it's finger licking delicious…
I've had this while in Kerala and once at a friend's place in Chicago. Being a shrimp fan, I love all kinds of shrimp dishes. This one being a Kerala-style curry, I love it even more. Raw mango slices are added to this curry, which imparts a nice sourness to this dish. Towards the end, coconut milk is added. Absolutely delicious curry.
This can be enjoyed along with rice or with idiyappam, appam, orotti etc.
Shrimp and Mango Curry
Ingredients
Coconut oil - 2 tbsp
Mustard seeds- 1 tsp
Fenugreek seeds- 1 tsp
Large shallots, sliced- 4 (or add 10 small or pearl onions)
Curry leaves- 10 leaves
Ginger, chopped- 1 tsp
Garlic, chopped- 2 cloves
Green chilies, halved- 2
Kashmiri red chili powder- 1 tbsp
Turmeric powder- ¼ tsp
Coriander powder- 1 tbsp
Tomato, chopped- 1
Salt- 1½ tsp
Water- 1 cup
Shrimp, deveined- 15 to 20
Raw Mango, diced- 1, medium sized
Coconut Milk, thick- 1 cup
Instructions
Place a clay pot or saucepan over medium heat.
Add coconut oil, let turn hot.
Add mustard seeds, let splutter.
Add fenugreek seeds, saute for a few seconds. Do not burn the seeds.
Add small onions or shallots, saute for 2 minutes.
Add curry leaves, chopped ginger, garlic and green chilies. Saute till onions turn golden in color.
Add Kashmiri chili powder, turmeric powder, coriander powder and salt. Combine well.
Add chopped tomato, combine well.
Add water and cook till water comes to a slight boil.
Add shrimp and diced mango, combine well and cook covered for 15 minutes.
Open the lid, combine well.
Towards the end, add thick coconut milk, give it a fabulous mix.
Let cook for 2 minutes.
Taste and add more salt if required.
If the gravy is thick, add some water to thin it down & cook for 2 minutes.
Remove the pan from the heat and keep covered for some time.
Enjoy with rice, chapati, idiyappam, appam, orotti, pathiri, puttu, etc.
Notes
If you don't have raw mango, add tamarind extract: 2 inch fresh tamarind soaked in ¼ cup water for 5 minutes, combine well & extract the tamarind extract. Add to the curry instead of raw mango & cook for a few minutes.